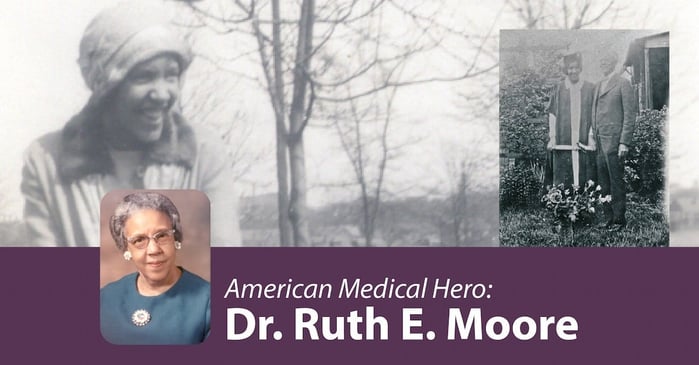 The first African-American to join the American Society for Microbiology was a woman. The first African-American to receive a PhD in Microbiology was a woman. And that woman, who overcame obstacles not only related to race but also gender, was Dr. Ruth E. Moore. We take a moment today to recognize this important scientist, whose contributions to the field as a researcher, professor, and leader have inspired generations of microbiologists.
---
1903 Columbus, Ohio was a fast-growing city with many vibrant cultural centers and communities. When Ruth Ella Moore was born, her mother was a successful artist and seamstress, one of the many African-American entrepreneurs who was making the city a busy Midwestern hub. Ella's mother taught her precocious daughter how to sew (she would become known for her beautiful, hand-made garments), but also to put her education first and pursue higher education. And young Ruth did - earning her Bachelor's in Science degree in 1926, followed quickly by a Master's in Science in 1927, both from Ohio State University.
In order to save money to continue her studies, Moore spent a few years teaching at Tennessee State College in Nashville. But before long, she had returned to Ohio State and in 1933 completed her PhD in Bacteriology, becoming the first African-American of either gender to do so. At a time when very few women of any race or any background studied the natural sciences, Dr. Ruth Moore also became the first African-American woman to earn a PhD in the natural sciences.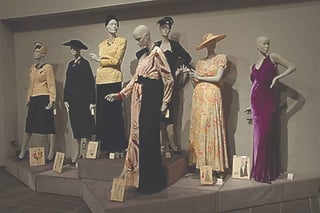 Dr. Moore, or "Rem" to her students and colleagues, was not only a microbiologist, professor, and department head, she was also an extraordinary seamstress. She was known for her glamorous garments, all of which she designed and constructed by hand.
Photo courtesy of the Historic Costume & Textiles Collection at Ohio State University
At the time of her dissertation, her research focus was the bacteriology of tuberculosis, an area of significant health implications to the United States at that time. At that time, tuberculosis was the second leading cause of death, and the cure was still over a decade away. Her bacteriological studies contributed to the work that would one day lead to eradicating the disease.
Upon graduation, Dr. Moore was hired by another noted African-American microbiologist, Dr. Hildrus A. Poindexter, to join him in the already well-established Howard University Medical School. Brought on to help reconstruct the pre-clinical division, Dr. Moore quickly became a popular professor, known as "Rem" to her students and colleagues. When Dr. Poindexter entered military service in 1945, Dr. Moore was selected as acting head Head of the Department of Bacteriology until 1955, and served as Head until 1960, becoming the first female to head any department at Howard. One of her first acts as Head was to change the name to the Department of Microbiology, but her legacies also include significant contributions in the study of blood types, immunology, dental caries, and the reaction of specific pathogens to different classes of antibiotics. After stepping down as Head in 1960, Dr. Moore continued as professor emerita until her retirement in 1971.
Throughout her career, Dr. Moore took an active role in the community of scholars in her field. Her students awarded her Teacher of the Year in 1952, and in 1970 she was recognized by her alma mater with the Alumni Centennial Award from Ohio State University. Not only did she lecture in bacteriology at a variety of universities, she became an active member of the American Society for Microbiologists, becoming the first African-American member in 1936. Her years of service as a mentor, leader, and activist were honored by that society in 1986, when the ASM Minority Committee gave her a life achievement award.
---
We encourage our readers to explore the many aspects of Dr. Moore's legacy by checking out these resources: The university where she received her training and would return as speaker and mentor, Ohio State University, the institution where she trained a generation of scientists, Howard University Department of Microbiology, and the association that benefited from her leadership for four decades, the American Society for Microbiology.
A special thank you to Gayle Strege, Curator at Ohio State University, for sharing photographs and biographic information about Dr. Moore.
Editor's Note: This post was originally published in February 2018 and has been updated for freshness, accuracy and comprehensiveness.