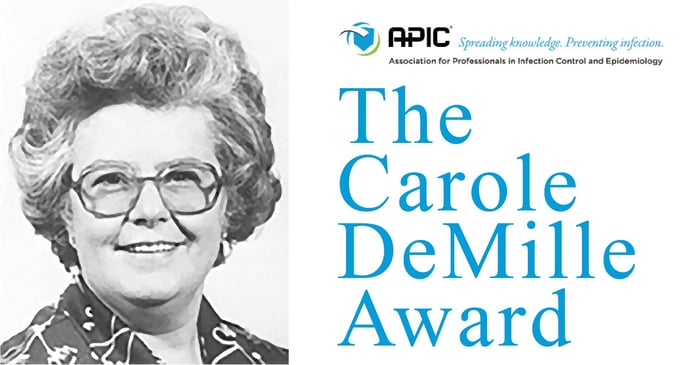 The annual Association for Professionals in Infection Control and Epidemiology is currenlty underway with a week of educational sessions, poster presentations, and inspiring speakers. One of the important parts of each years' conference is the presentation of APIC's most prestigious award, the Carole DeMille Achievement Award. Today's post will celebrate the infection preventionist in whose honor the award is given, a story that reveals much about the behind-the-scenes progress in the field.
---
To set the context for the story, let's go back a few decades to the 1960s. Only a handful of hospitals around the country were paying close attention to the infections their patients acquired after admission to their facility. Even after a series of outbreaks of staphylococcus infections in the 1950s, the monitoring, tracking, and reporting of HAIs was not common practice. However, that handful of hospitals who were paying attention found that they could control these infections, and slowly their best practices were adopted by other facilities. Slowly, the field of infection control and prevention reached acute care hospitals across the nation.
A result of this nation-wide attention to HAIs was the pressing need for dedicated infection control practitioners, individuals specifically trained to prevent and control infections in an acute care setting. These practitioners would need investigative training, a strong foundation in microbiology, epidemiology, surveillance, and statistics. Prompted by a need to fill these positions as well as to grow the profession, the small group of dedicated infection control professionals came together to create what is now the Association of Practitioners in Infection Control, or APIC, in 1972. Now almost 50 years later, it may have a slightly different name (Association for Professionals in Infection Control and Epidemiology), but the mission remains the same: To provide continuing professional interaction, education, and growth to those involved in preventing HAIs.
The story of Carole DeMille, one of the first presidents of APIC, is one that speaks to the behind-the-scenes efforts by so many involved in infection control. A nurse at Massachusetts General, where she also completed her nursing degree, Carole became the first official professional dedicated to infection control at that world-renown facility. She went on to become one of the founding members of APIC, working tirelessly to bring infection control professionals together for mutual benefit and enrichment, while working to grow the field by mentoring and coaching the next generation of infection preventionists.
Her generation of practitioners did not publish research to the degree that is done today - for one reason, the new field did not have any peer-reviewed journals until she helped start the American Journal of Infection Control. DeMille's legacy is instead measured by her lasting impact on her peers and colleagues who were inspired to pursue infection control and in those she taught and mentored within her own facility as well as around the globe.
One of those individuals who carries on her legacy is this year's winner of the Carole DeMille Achievement Award, Stephen Streed. This award, the organization's highest award for lifetime achievement, was established to recognize a practitioner who exemplifies DeMille's dedication to education and innovation in the field. Streed, system director of epidemiology/infection prevention at Lee Health in Fort Myers, FL, has spent his decades-long career at the forefront of infection control. One of the first professionals to become certified in infection control, Streed went on to educate, coach, and mentor others as they became certified, developing and teaching some of the first hospital epidemiology and certification preparation courses ever offered through APIC. As a professional, he championed the use of computer-assisted data surveillance, collection, and analysis and worked on the task force that created the CDC's landmark white paper, the "National Action Plan to Prevent HAIs."
Streed, who was honored on the first day of APIC's 44th annual conference, has seen the profession of infection preventionists grow from a handful of individuals to a profession of tens of thousands of physicians, nurses, epidemiologists, policy-makers, and affiliated professional organizations. A contemporary of DeMille, Streed has also witnessed a changing national emphasis on HAIs leading to significant improvements in patient safety.
Sadly, Streed's first mentor did not live to see these changes; Carole DeMille's life and career were abruptly cut short in 1979 when she passed away from cancer at the age of 47. Those who picked up the torch and persisted in bringing national attention to HAIs ensured that her legacy would live on. We will conclude in Carole's own words, with her hopes for the future of infection control, goals that have become realities thanks to her legacy:
"In the future we must develop and demonstrate accountability for the quality of infection control standards of care. We must also initiate the mechanisms for certification of those individuals within our field who have developed a competency to practice. Unless we accept the challenges of the present we alone will be responsible for our lack of identity in the future.... My directive - APIC, prepare for the future with confidence. Enjoy!"