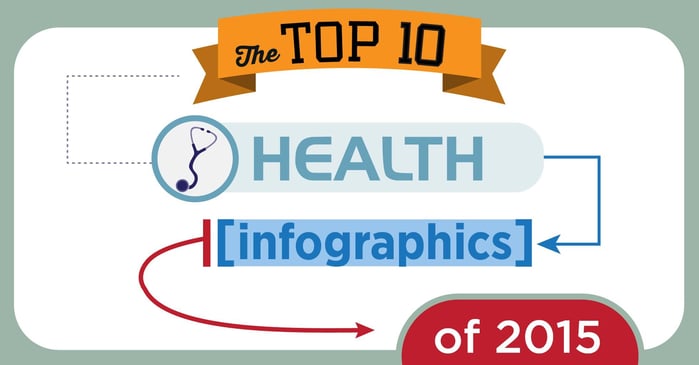 We love infographics. The way one image can convey complex information in an accessible, shareable format makes infographics one of the quickest growing trends to hit publishing in a very long time. In today's post, we focus our love of infographics on our favorites published this year dealing with health topics. Some of these images are educational, others are inspirational, while others tell a cautionary tale. (We feel the best ones do all three!) Have a look at our picks, then suggest any we may have left out!
---
This interactive infographic communicates what happens when measles hits a variety of populations, from 100% unvaccinated all the way to 100% protected. Watch as the red measles dot bounces across the screen and hits the various populations, which respond according to measles contagion statistics. The results are eye-opening.
Travelers face a whole new world of infectious diseases each time they step onto a new continent. This infographic details the most common infectious diseases actually contracted by travelers worldwide. This is an important distinction – not just those diseases that exist, but those by which travelers actually become infected. Packed into this one infographic are symptoms, geography, statistics, and incubation period.
Technically, this infographic was released in 2014, but underwent enough of an update in 2015 that we allowed it into our list. It explains a critical aspect of science: How to evaluate scientific claims. The Internet era allows anyone to publish claims that can be seen, read, shared, and republished by the world. This means we need to redouble our efforts to make those claims stand up to scientific rigor. In 12 clear points, this infographic gives anyone, from students to experts, a cheat sheet to ferreting out bad science.
Today's patient is not only more informed in the digital age, they also expect to be connected to their doctor and medical team via the latest digital means. This infographic presents the findings of a survey aimed at identifying what patients want, expect, and demand in terms of staying connected via email, telehealth, mobile apps, and more.
The CDC and other federal agencies not only have the task of addressing HAI rates and bringing them down, but also communicating its progress to the nation. This series of infographics presents their results along with basic definitions and key statistics.
15 years have passed since To Err is Human, the report on the state of patient safety in America, the National Patient Safety Foundation convened a panel to address the progress made in making hospitals safer. Along with their report, they produced this infographic to highlight their 8 recommendations for future progress.
We all know data is king. Data reigns over healthcare as well, where advances in technology are producing mountains of data which can be used to make better decisions. This infographic focuses on how analytics can bring focus and meaning to big data, or as they say, "from descriptive to predictive capabilities."
This fascinating interactive infographic presents the breakdown of medical care and who paid for it over the span of 45 years. Watch as out-of-pocket payers shift to private insurance, for example, or how nursing care costs grow, all in the span of a few seconds. You'll want to explore this one longer.
The world's eyes were on Ebola this year, watching as this lethal virus swept through several African countries and then, through travelers and returning healthcare workers, into hospitals across the planet. Ebola's symptoms, morbidity, and incurability made for a terrifying and riveting health topic. This interactive infographic details the effects of this virus on our bodies, with accompanying graphics explaining the geographic spread of the disease, the layout of treatments centers, and other topics.
We are not ones to toot our own horn, but since this infographic of ours made the "Most Viewed" list at a national healthcare website for six months running, we thought it would be ok to include it among this list and share it with you again! This infographic overlays two pieces of research: The most touched surfaces in a patient room plus the patient room surfaces most likely to be contaminated with MRSA. It helps communicate how hospitals can target their cleaning efforts and technology adoption strategies with a focus on contaminated surfaces.
---
So there are our top 10 health infographics from 2015. If we missed any great ones, we invite you to post the links in the comments section and share them with our readers!