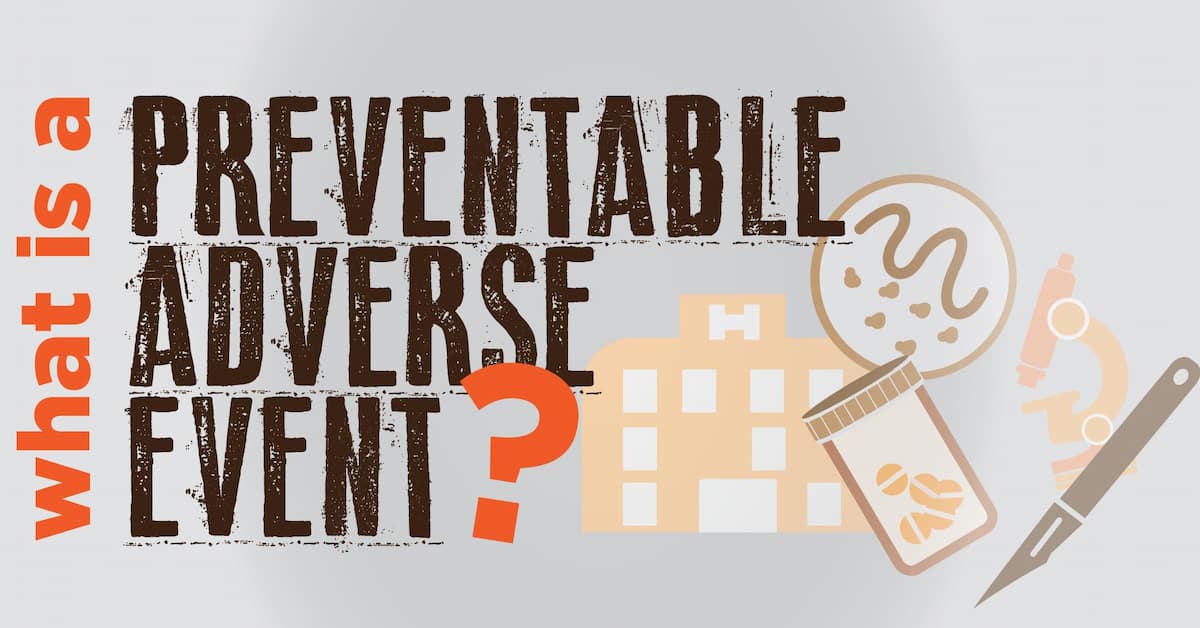 Medical students have made the same promise since the dawn of health care: First, do no harm. Despite living by this maxim, medical staff are human. While they are held to extremely high standards - both by their employers and by themselves - these professionals do make mistakes.
The quick definition of a preventable adverse event is harm to a patient caused by their medical care rather than their underlying medical issue (disease, illness, injury). These medical errors are often referred to as "preventable adverse events," a broad term that can be explored by looking at those three key words.
Preventable
Medical errors are preventable if investigation reveals that human error resulted in patient harm. (Only a tiny number of medical errors are due to negligence, so errors do not refer to only professional misconduct.) Medical errors can be caused by the wrong treatment or the right treatment performed incorrectly. Unlike in previous decades, today's infection control professionals operate with the assumption that hospital-acquired infections are preventable. When healthcare professionals directly reduce the bioburden, practice excellent hand-hygiene, and clean devices appropriately, HAI rates go down. When additional technologies are used to reduce the bioburden and the chances of cross-contamination, these HAI rates go down even further, moving along the "journey to zero harm."
Adverse
Medical errors harm patients. This harm, and the source of the harm, can be classified into degrees of severity or by sources of the error. Other taxonomies try to identify categories of human behavior leading to medical errors, all in an effort to establish data patterns that will help practitioners reduce the chances of an error. While investigations into medical errors already have lists of what is known to lead to errors (inexperience, fatigue, complex technology, language barriers, and miscommunication, among many others) further data helps the entire healthcare community, as well as individual facilities and even practitioners, work towards reducing errors.
Events
The harm patients experience due to medical errors is often not limited to a specific moment in time. Many medical errors have long-term effects, or multiple levels of compounding errors. As a result, the term events is used to capture the entire length and breadth of the medical error and its effects on the patient over time. For example, a patient may receive a misdiagnosis that starts a chain reaction of errors over a length of time until that error is discovered and rectified. In general, adverse events are categorized as adverse drug events, nosocomial infections (HAIs), or surgical complications. Adverse drug events involve the incorrect medication or dosage being administered, nosocomial infections include device- or surgery-related infections, and surgical complications include procedural mistakes such as removing healthy tissue or leaving a surgical tool inside an incision.

---
Preventable adverse events, medical errors, HAIs, and any other term for harm caused by medical treatment are serious concerns for the healthcare industry. A recent study conservatively estimates that approximately 22,165 Americans per year will die from a preventable adverse event. Measures are put in place to track, record, and report these mistakes, as well as to discover the sources of these mistakes. Because so few of these mistakes are caused by outright negligence, a critical component of reducing mistakes is preparing healthcare workers to recognize when they are at risk for making a mistake. In addition, creating an employee culture that supports preventing errors by celebrating individuals who "catch" potential errors is essential. (The Josie King Foundation has made great strides in communicating this culture change.)
Healthcare facilities can use all the help they can get to reduce preventable adverse events, including technologies that help track medicines, facilitate patient communication, and reduce the bacterial bioburden. This cultural shift, coupled with technological innovation can work to reduce medical errors.
Editor's Note: This post was originally published in July 2015 and has been updated for freshness, accuracy and comprehensiveness.