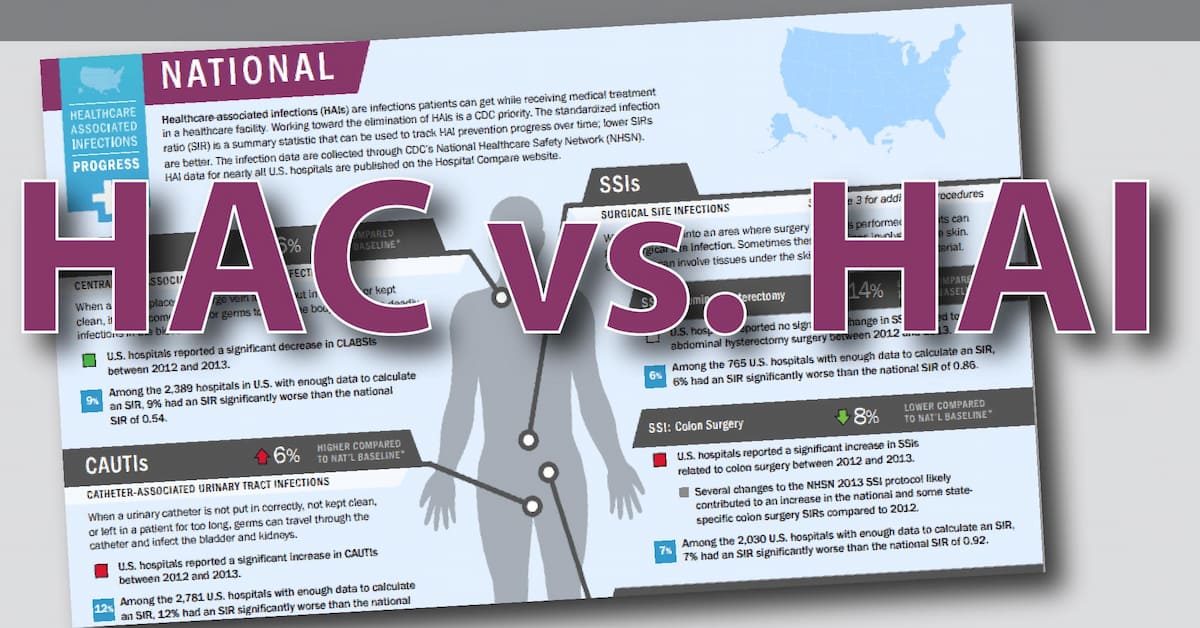 In the world of healthcare, there are so many acronyms (and some might say, euphemisms) for the deadly toll of medical errors and infections. Two such terms are HACs and HAIs. Today we'll explore the difference between the two, both in terms of what conditions they cover and how they are regulated and reported.
Last week we discussed Preventable Adverse Events, those medical errors deemed avoidable (and not necessarily the result of negligence). This is a way of referring to medical errors in a broad way that can include errors in medications, procedures, caretaking, and safety.
There are also Hospital-Acquired Conditions (HACs) and Hospital-Acquired Infections (HAIs). HAIs are one example of a HAC, but not the only one. Let's explore how these terms fit into the big picture.
A faulty healthcare system
It all starts with two reports from the Institute of Medicine published just as we were entering the new millennium. The first was To Err Is Human: Building a Safer Health System (1999), followed by Crossing the Quality Chasm: A New Health System for the 21st Century (2001). Both detailed healthcare shortcomings and proposed policy and structural changes to reduce medical errors. From the results of these two reports, significant attention has come to the issue of patient safety, including additional research and funding.
A costly healthcare system
Now enter the Deficit Reduction Act of 2005. Included in this law is the requirement to reduce Medicare/Medicaid costs. One of the provisions in this Act was that Medicare/Medicaid would stop paying for medical treatment that is required due to a medical error. No reimbursement meant the hospital would have to cover the costs themselves.
In order to specify which treatments would or would not receive reimbursement, a list of Hospital-Acquired Conditions was created.
An accountable healthcare system
The result of research and policy is the Centers for Medicare & Medicaid Services (CMS) pay-for-performance programs: A hospital will receive reimbursements based on how they rank nationally and their HAC score. CMS ranks hospitals based on several metrics, of which the largest is Hospital-Acquired Infections.
The worst-performing 25% of hospitals will lose 1% of their CMS reimbursements.
---
So what does this mean? A hospitals rate of HAIs will impact that hospitals HAC score, which will directly correlate to whether or not they receive their CMS reimbursement.
So in a nutshell:
Hospital-Acquired Conditions are an established list of medical errors that are tracked nation-wide.
Every hospital receives a HAC score derived from the number of reported errors.
Hospital-Acquired Infections make up the largest percentage of the HAC score.
What are the results of this tracking and penalizing? A preliminary 2014-2017 report (the most recent data) show that the national HAC rate decreased 13% over that time. However, not all types of HAC had a consistent downward decline. Some went up from 2014-2015 then down again over 2016 & 2017 like the urinary tract infection HAI. In short, HAIs reduction could still use improvement on the way to zero harm.
---
Researching, reporting, and sharing HAC and HAI information was the first step in eliminating medical errors that result in patient harm. The next step is implementing systemic and structural changes to ensure that that no patient is harmed while seeking medical treatment.
Editor's Note: This post was originally published in July 2015 and has been updated for freshness, accuracy and comprehensiveness.