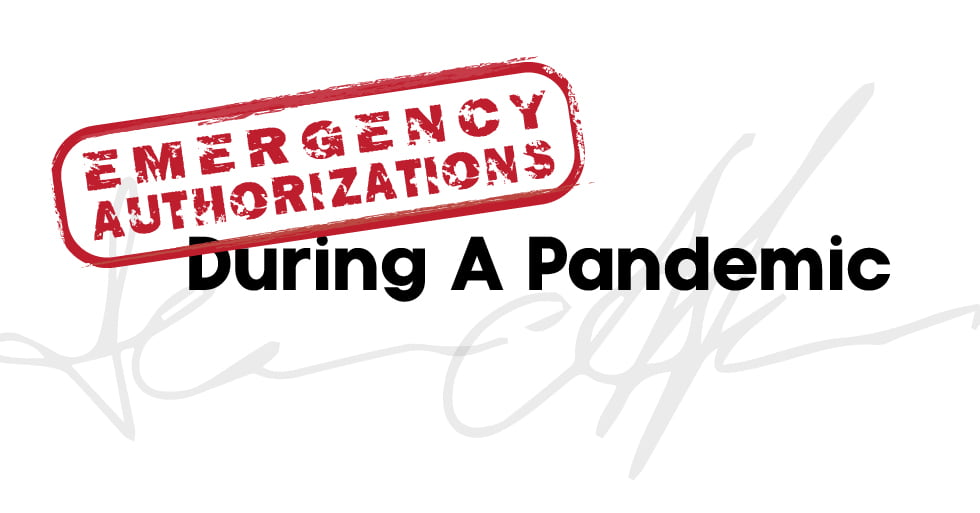 Regulations help make sure that people and companies behave properly, especially when it comes to health and safety. The Environmental Protection Agency (EPA) and the Food and Drug Administration (FDA) have regulations to help keep consumers safe while using chemicals, pharmaceuticals, medical devices, and more. But during a pandemic, often the time required to implement regulations causes risks of its own - during these times, we often need a quick solution, even if it is not the best solution. Therefore, during times of great need, such as during a pandemic, there exist special authorizations to allow temporary permissions to safe, but not necessarily effective, products. Today we will talk about three of those emergency authorizations.
---
The most important of these special permissions is the Emergency Use Authorization granted by the FDA to products such as pharmaceuticals or diagnostic tests. During COVID-19, an emergency use authorization was granted to numerous diagnostic tests, as well as to personal protective equipment and other medical devices. The FDA also issued emergency use authorizations to pharmaceuticals, including the antiviral drug remdesivir, which remains in effect, and the antimalarial drug hydroxychloroquine, which was revoked in June 2020 after several studies demonstrated adverse effects on patients. The case of hydroxychloroquine is an excellent example of how the emergency use authorization process works: The drug (or device, or product) must be proven to be safe; this is a requirement. But how well it works is less of a priority - it only must demonstrate that it "may be effective." When hydroxychloroquine failed to demonstrate safety, its authorization was revoked. In essence, it was deemed to do more harm than good. This quick authorization of products basically is a stopgap measure to make sure users will be safe, that possibly effective products are available for use, but to ensure that consumers are aware that these products have not been put through the rigorous tests required for full authorization.
The EPA relies on its Emerging Viral Pathogens Claims Process to fast-track EPA-registered disinfectants seeking public health claims for SARS-CoV-2. These products have already made it through the EPA's rigorous testing protocols to demonstrate safety and efficacy, and can submit additional testing data to demonstrate efficacy against the surrogate human coronavirus (since SARS-CoV-2 is not available to most testing laboratories yet). The EPA regularly puts out guidance and statements to update the public on these claims.
The third, less well-known regulation is the Public Health Emergency Waiver also issued by the EPA. Originally designed for use in agriculture, this waiver has historically allowed unregistered pesticides (or registered pesticides to be used off-label) to be used during sudden outbreaks, such as a pest threatening cattle or crops. Because of these agricultural roots, this waiver is always limited to a small geographic area and is in effect for only 1 year, at which point the product must pass the same protocols required for registration under the new use. Only one product has applied for this waiver for a product against COVID-19, an unusual move for a waiver that has only even been used for agricultural pesticides, not healthcare pathogens. Also unusual, this registration is also for a product that has not other EPA registration. This is an emerging story, sure to bring up many interesting discussions.
---
We often hear how we all have to do our part to get through the current pandemic quickly and safely. This applies to wearing masks, getting tested, cooperating with contact tracing, and following guidelines. But it also applies to our roles as manufacturers and consumers. Manufacturers have the responsibility to follow the rules and not mislead the public. But we as consumers also have to do our part, to do our research and consider the big picture when making decisions about how to keep ourselves, our families, and our facilities safe. During a public health emergency, this means understanding the context of these authorizations, processes, and waivers, and taking this into consideration when evaluating an intervention. We hope this post has helped you and your team make better decisions during this challenging time.