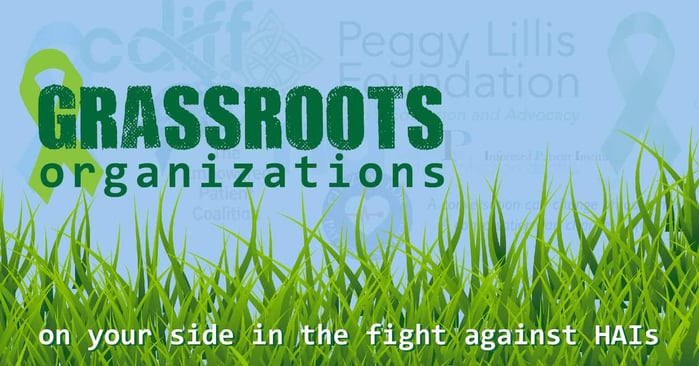 Those of us who work in the field of infection control have a lot on our minds: Surveillance, efficacy, new studies, data, policy, finances... the list goes on. There is one important aspect of infection control that should never leave our minds, however - the patient. Today's post focuses on the support and advocacy groups whose sole function is to keep the patient's experience front and center.
---
T
oo often we forget to take a moment and consider the experience of the patient who suffers from a healthcare-associated infection. The father who waits to hear the results of a test to see if he can go home to his family. The mother who must blow kisses to her children through a screen because she is still under isolation precautions. The child struggling to find the strength after the third or fourth infection of her central line. Each individual patient's infection is different, but they are united by the shared experience of struggle.
Thankfully, there are grassroots groups that have formed as a result of these shared experiences made up of individuals who have endured an HAI or their family members. Here is a brief description and link information for the most active groups we found.
The MRSA Survivors Network is a consumer organization that works to bring international awareness to the risks and dangers of MRSA. This non-profit organization works to affect legislation and policy regarding healthcare-associated infections, as well as support to individuals who have endured a MRSA infection. Their website features materials that share information, patient stories, and information on their signature events, World MRSA Day, (October 2) and MRSA Awareness Month (October) and International MRSA Testing Week (April 1-7). They have selected teal as the awareness ribbon color for MRSA.
Staffed completely by volunteers, the C. Diff Foundation was founded in 2012 to provide education, support, and advocacy for patients and survivors of a leading HAI menace, Clostridium difficile. This group hosts a number of multimedia platforms for learning about C. diff as well as sharing personal stories. They have a podcast, C. Diff Spores and More, and host webinars throughout the year.
This non-profit organization works through a variety of avenues to reduce all hospital-associated infections, but particularly the superbug CRE (Carbapenem-resistant Enterobacteriaceae). RiD publishes support and educational materials for the general public, and uses its experiences with government processes to meet with key policymakers and influence legislation.
Founded in honor of a beloved family member whose life was lost to a C. difficile infection, the Peggy Lillis Foundation exists to promote awareness and education about the dangers of this pathogen. Their website offers resources, personal stories, and tips for talking about HAI interventions with lawmakers.
This group of patients, advocates, and supporters work to help individuals take more of a leadership role in their medical care. Founded by parents who lost a child to a hospital-acquired infection while undergoing cancer treatments, this organization focuses particular attention on children in medical care and their parents.
---
One of the amazing aspects of these groups is that they were founded by individuals who themselves suffered from an HAI - or suffered a tragic loss of a family member due to an HAI. That personal tragedy led these founders to take extraordinary steps to make sure that one day, no one would have to go through what they experienced. We are fortunate to have these groups on our side!
Stay tuned for future posts where we participate in some of theses organization's awareness campaigns.
Editor's Note: This post was originally published in July 2017 and has been updated for freshness, accuracy and comprehensiveness.