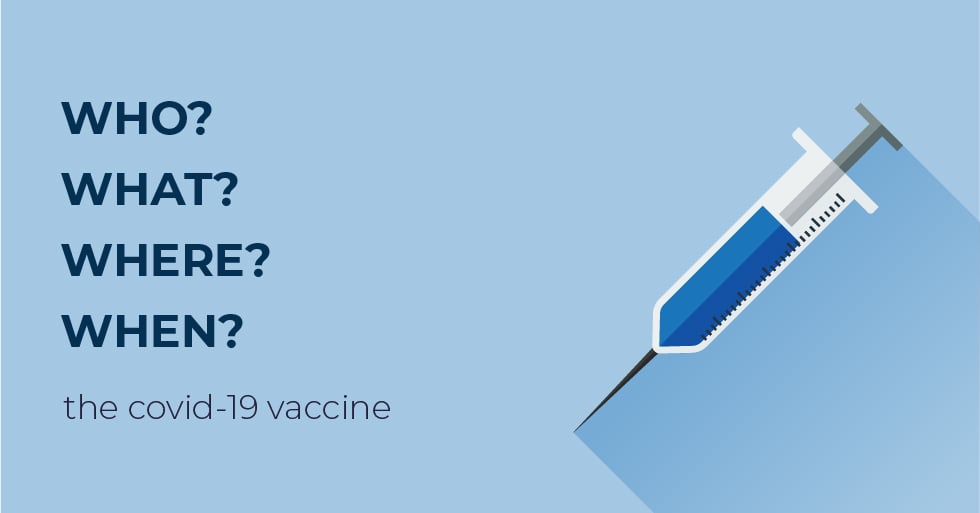 Photos from around the country show healthcare and frontline workers receiving the first COVID-19 vaccines, their smiles and confidence becoming a light at the end of what has been a very dark tunnel. With two vaccines currently available, and more in the near future, it seems like a return to normal life is finally within grasp. But just what will need to be achieved in order to return once more to the pre-pandemic world? In today's post, we'll look at the basics: Who will get the vaccine? When will it be available? Where are the vaccines going? What can we expect?
---
WHO? WHEN? | Each state determines how their vaccine allotment (determined by population size) will be distributed, but the typical consensus is the same. Here is a brief overview:
December 2020

Healthcare workers, prioritized by exposure risk, and nursing home residents

21 million workers

3 million residents

January 2021

Essential workers in food and agriculture, manufacturing, law enforcement, transportation, prisons, and emergency response; Military, Department of Defense, Department of State, Veteran's Administration

87 million workers

? Federal/Veterans

Before March 2021

Older adults (65+), people with underlying conditions

50 million adults

April-June 2021

All other adults

100+ million adults

December 2021

Children (estimate)

80+ million children
WHERE? | Individuals getting their vaccinations in the first few months will receive them through state-coordinated events carefully coordinated to accommodate the tricky shipment and storage requirements of the serum. Shipments will first go to locations that can either store them or use them quickly. In the Spring, when regular adults will be receiving vaccines, we will scheduling them through our doctor's offices or through pharmacies with clinics, much like the annual flu vaccine.
WHAT? | The vaccine itself will be an injection in the arm, just like the flu shot. However, it will require a booster shot 3-4 weeks after the initial injection to increase immune response. We don't yet know whether an annual shot will be required, but all evidence points to a safe vaccine with minimal side effects. (Keep in mind that some side-effects just indicate that your body is building up a strong immunity!) As the first groups of workers and older adults get vaccinated, even more data will be collected. This data will also provide valuable information about pregnant and breastfeeding women, but all indications point to safety even for this population.
---
Possibly the most pressing question now is "When will things get better?" Unfortunately, while a vaccine is certainly a light at the end of the tunnel, that tunnel happens to be a steep incline with many obstacles yet to come. The most challenging will be the sheer numbers of people that will have to be vaccinated before our population is protected, all the while the virus will continue to spread and claim lives. An astronomical 230 million people will have to get vaccinated (70% of our population) for the vaccine to truly protect us, and with significant vaccine hesitation in some sectors, this is truly an uphill battle. Significant public outreach, education, discussion and reassurance will be needed to help get a tired, worn-out, divided population on board with mass vaccinations. We will all need to work together to campaign for vaccinations so that we can all emerge together into a post-COVID world.