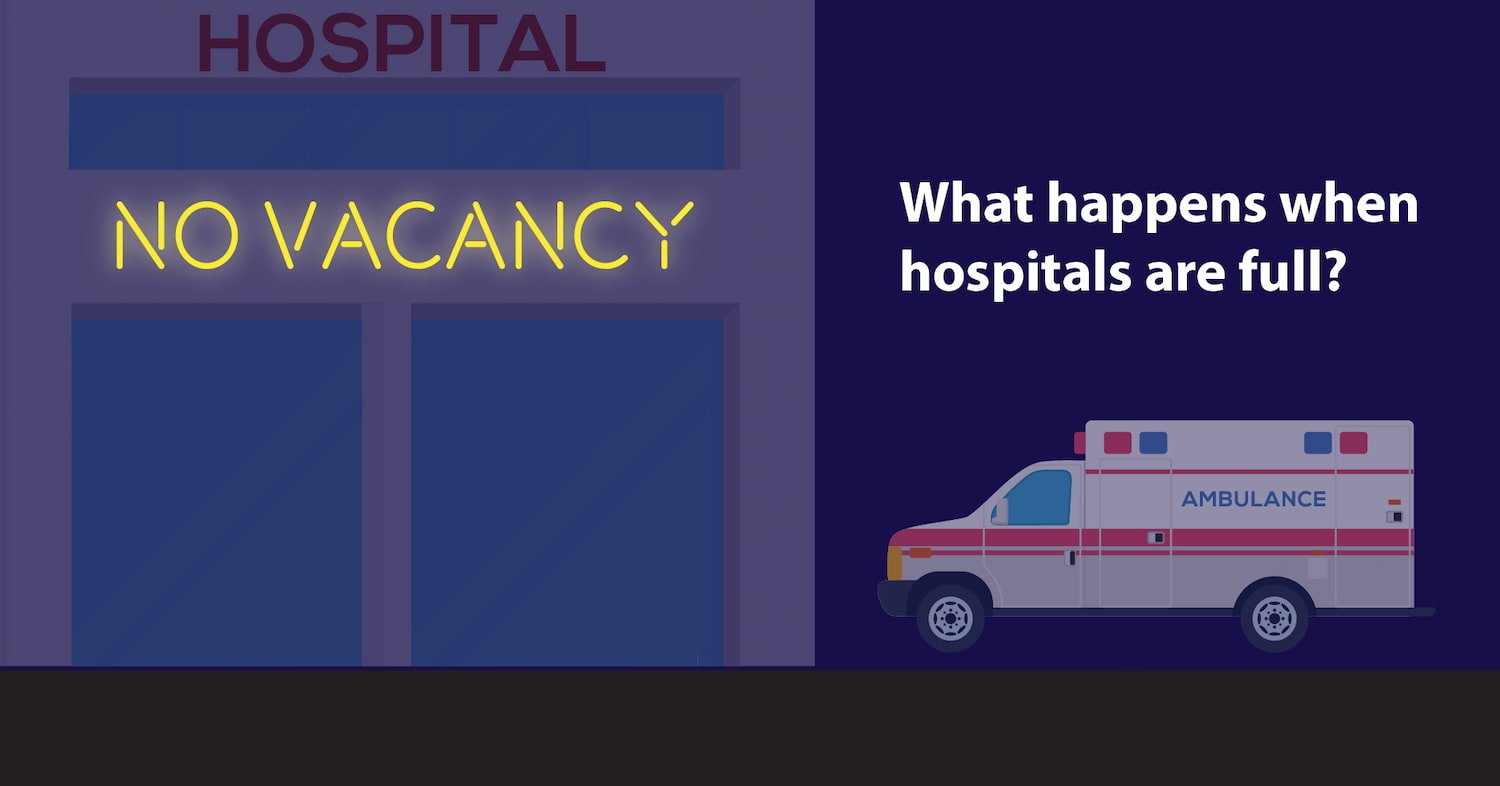 Last week, Alabama exceeded its ICU capacity. This means that all the state's ICU beds were occupied, and 40+ patients were waiting for a bed to open up. Almost half of US hospitals are under high or extreme stress. Over 3/4 of US ICU beds are full. With COVID surges hitting some areas of the country at disproportionate levels, a question is becoming more and more common: What do we do when the hospitals are full to capacity? In today's post, we'll look at what options are available to states and localities who face this terrifying question.
---
During natural disasters or other emergencies, there are plans in place to help affected localities deal with surges in medical care, housing, food, and other essential needs. When the disaster is massive, like the COVID pandemic, even these emergency plans are put under a strain that can be hard to manage. So when an area is particularly hard hit with COVID cases, alongside everyday pressures on medical facilities, what happens when the hospitals are full?
1. Patients wait for care. Emergency medical services often have to wait with a patient in an ambulance if there is no bed available. Patients can spend hours waiting to be seen, ending up in a hallway when there are no rooms. And this extends to non-COVID patients as well... if a patient has a heart attack and arrives at a full hospital, they aren't going to get the immediate, life-saving help they need.
2. Patients get sent to other facilities for care, often hundreds of miles away. When ICUs in smaller hospitals fill up, they begin calling around to all the local and regional hospitals to see if they have beds available. The geographic radius can increase to include facilities hundreds of miles away in particularly hard-hit areas, since closer hospitals are dealing with the same surges which can occupy beds or make them too short-staffed to accept new patients. Often, patients will wait several hours for treatment as a bed is found and transportation arranged.
3. Alternative care sites are set up. While the first COVID surge resulted in alternative care sites being set up to handle predicted floods of COVID patients, most of them ended up not even being used. Self-isolation and work shutdowns did a great deal to manage the spread of the virus. However, the delta variant flourished just as we were relaxing our mitigation efforts, so this more virulent and more dangerous virus has led to a sudden surge in cases while hospitals are simultaneously dealing with every-day healthcare and a return to elective procedures (prohibited during the earlier months of the pandemic). The push for alternative care sites has been met with mixed results - areas want to avoid the cost of a site that will never be used, but also must provide for options now that hospitals are exceeding capacity. We should expect to see some alternative care sites being set up in the near future if trends persist.
---
States and localities are taking steps to "decompress" hospitals. In some areas, elective procedures are being canceled or postponed once again. The option for home recovery for COVID patients is being facilitated, with less severe cases receiving monoclonal antibody treatment at home. To deal with staffing shortages, health care workers are being reassigned, brought out of retirement, or requested from the state and federal medical emergency programs.
But what is the best way to help hospitals? Get vaccinated. This surge in COVID hospitalizations is overwhelmingly due to folks being unvaccinated and therefore getting hit with the full force of the delta variant (unvaccinated people are 29x more likely to be hospitalized). While vaccinated people can still get the virus, their illness is mitigated by an immune system that is primed to fight it off. But until we can encourage more of our friends and family to get vaccinated, we might all be asking ourselves... what will happen when our hospital gets full?