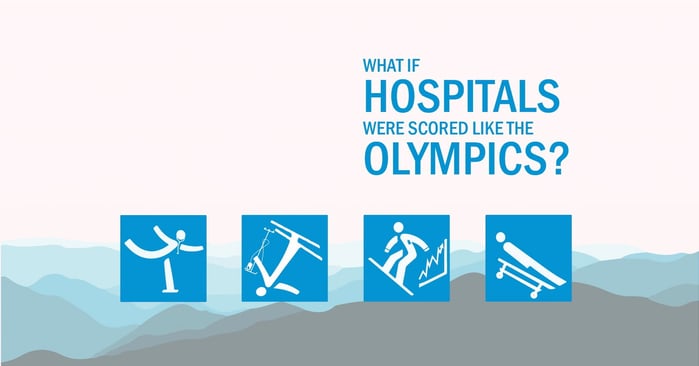 The 2022 Olympics are underway and we will watch so many performances by talented and determined athletes from around the world. The speed, agility, strength, and stamina of these young men and women is obvious. Less obvious are the complex rules and scoring for the 15 winter sports and their 109 medal events. In a way, the complicated rules and scoring might remind someone of the complicated algorithms for hospital scoring! Taking this idea a little further, we wondered... What if hospitals were scored like Winter Olympics sports?
---
Speed
The goal of some Winter Olympics sports may be having the fastest time (Super-G), fastest aggregate time (Bobsled), or simply crossing the finish line first (Cross Country Skiing). When speed is the sole determination of the winner, athletes do not have to worry about style or scores, but they do have to focus on every adjustment or strategy that can maximize speed while staying within the defined limits for equipment and technique.
If speed or efficiency were the sole measurement for hospitals, can you imagine the result? Every effort would be focused on getting patients in and out of the hospital as quickly as possible. Perhaps this would spur innovation in logistics and procedures - it might even encourage some infection reduction as a means to reduce extended length of stay - but it leaves so much out of the picture. Personal interactions with patients would likely go right out the window, as would team consultations and collaborations that, while taking some extra time, can prove essential for positive outcomes. We can see this in action today any time we feel rushed through an appointment or feel pressure to increase room turnover rates.
Style
Ah, the subjective scores of the Olympics. Whether evaluating a snowboarder's tricks, a figure skater's leaps, or a skier's jumps, the Winter Olympics judge brings in a whole new elements of suspense - unpredictability along with scandal... and sometimes even downright illegal bias. Subjective scores are predicated on the expertise and impartiality of the judge and allow for elements with more nuance (artistry, originality, composition) to play into a final score. No sport is judged solely on subjective measures, but they can make the difference between two technically equal performances.
What if hospitals were scored using solely subjective measures? In many ways, they were until fairly recently. Before the advent of hospital accreditation associations like Joint Commission (JCAHO) or Det Norske Veritas (DNV) or the enforcement of CMS requirements, a hospital could perform its own evaluation according to whatever measures they chose. But even today's accreditation scores have room for subjectivity, making it important for healthcare workers and consumers to investigate the sources of scores available for their facility. For example, some scores may be based more on a site visit, while others place more weight on patient outcomes. One purely subjective measure that continues to be used today is the patient satisfaction score, a score that makes up a full 30% of the scores used by CMS to determine reimbursements.
Score
Many Winter Olympics sports use a final score to determine a winner. In Hockey and Curling, teams compete against one another in an elimination or round robin format, with points scored determining the winner of each game. Some sports combine speed with points (Biathlon), distance with style (Ski Jumping), or speed with style (Cross Country). When a point system is used, even if the final determination is subjective, an athlete can attempt to maximize his or her possible points by selecting more challenging tricks, combinations, or program compositions. Taking a risk can be rewarded through higher point value and result in a higher final score. In order to achieve parity among competitors, some sports allow for scores to take external factors into consideration such as wind (Nordic Combined) and impeding opponents (Speed Skating).
This type of scoring is most familiar to the healthcare worker. Anyone who works in a hospital has intimate experience with the various accreditation organizations that give scores across a broad spectrum of characteristics and outcomes. The Standard Infection Ratio attempts to achieve a kind of equalization; hospitals with more challenging demographics are able to be more fairly compared to hospitals with healthier demographics. But what if taking risks with procedures or more challenging patients helped a hospital's overall score? That could help fuel innovation by rewarding efforts to try new strategies without a hospital taking on the risk of being penalized. We may not have 6 quad jumps in figure skating - or any number of innovative medical treatments - without rewarding some risk-taking!
---
The Olympics are made up of so many unseen challenges and competitions even before the opening ceremony, each with their own opportunities for success. Some of these successes can be measured by medals won or records broken. Others can be measured by unity between normally adversarial countries, or comeback stories of individual athletes. The same range of successes are experienced by every healthcare facility: An accreditation secured, a CMS score achieved, but also a challenging patient cured, a team's collaboration, a budget crisis averted, or a renovation completed. The important thing to remember is to continue to try to do better each time, while pausing now and then to celebrate how far we've come.
Editor's Note: This post was originally published in February 2018 and has been updated for freshness, accuracy and comprehensiveness.