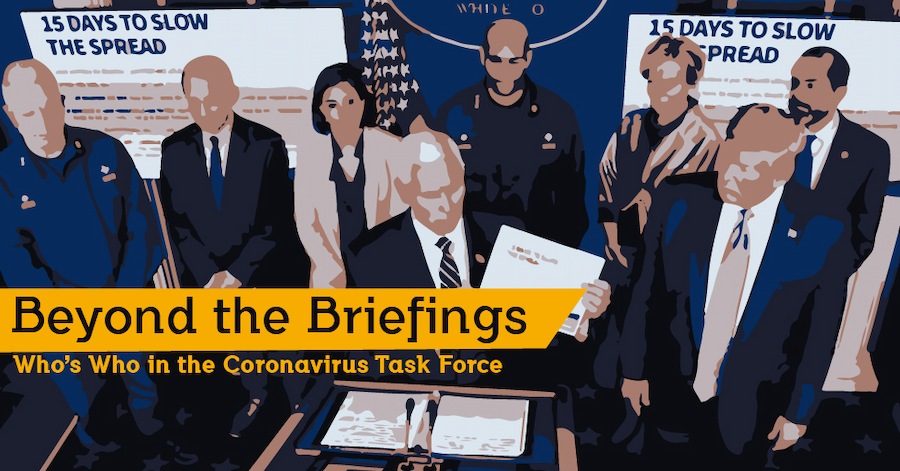 Each day, the White House Coronavirus Task Force leads a press briefing to update the nation on the response to the spread of SARS-CoV-2, the virus that causes COVID-19. After the President speaks, a number of members take to the podium to give updates or answer questions in their particular area of expertise. In today's post, we'll look at the 5 members of the 22-member team that have a medical background and describe their path towards their becoming household names.
---
On January 29, 2020, the White House Coronavirus Task Force was formed, chaired by Vice President Mike Pence. Of the 22 members representing federal, military, economic, and medical viewpoints, 5 are physicians or trained in public health. Let's get to know a little more these professionals who have become our source of information on the spreading pandemic.
Dr. Deborah Birx | White House Coronavirus Response Coordinator
Dr. Birx began her medical career with the US Army and the Department of Defense, rising to the rank of Colonel. She focused her work on immunology and HIV vaccine development. She served as the Director of the U.S. Military HIV Research Program (USMHRP) at the Walter Reed Army Institute of Research. For her work on the HIV vaccine RV144, she received two prestigious U.S. Meritorious Service Medals and the Legion of Merit Award. Dr. Birx went on to run the CDC's global HIV/AIDS division. She most recently served as the US Global AIDS Coordinator, nominated by President Obama to serve as Ambassador-at-Large and run the President's Emergency Plan for AIDS Relief. Here's a great article about Dr. Birx from NPR.
Dr. Anthony Fauci | Director of the National Institute of Allergy and Infectious Diseases
Another household name is Dr. Fauci, a physician and immunologist who has spent decades working towards effective responses - both medical and societal - to dangerous outbreaks. Often the spokesperson for whichever administration is facing an outbreak, Dr. Fauci is known for his frank, honest, and clear explanations of complicated and emotional data. He was at the forefront of our nation's response to HIV/AIDS, SARS, swine flu, MERS, Ebola, and the anthrax bioterrorism threat. He was an important part of creating the President's Emergency Plan for AIDS Relief (PEPFAR). As a clinician, he discovered mechanisms behind the immune response that contributed enormously to treatment of several diseases. He is one of the top 50 most-cited authors in the history of scientific research, demonstrating his active participation as a practitioner while also working in public health policy. Dr. Fauci received the Presidential Medal of Freedom from President Obama in 2008.
Dr. Robert Redfield | Director of the Centers for Disease Control and Prevention (CDC)
Anther task force member with HIV/AIDS experience, Dr. Redfield began his medical career as a virologist with the US Army Medical Corps, researching and making policies about HIV/AIDS response in the armed forces. While not all of his contributions were met with universal acclaim, he retired at the rank of Colonel. Thereafter, he and Dr. Robert Gallo (who co-discovered the HIV retrovirus) co-founded the Institute of Human Virology at the University of Maryland, where he had also served as a professor of medicine and microbiology. He became the 18th director of the CDC in March of 2018.
Dr. Jerome Adams | Surgeon General of the United States
An anesthesiologist and Vice Admiral in the US Public Health Service Commissioned Corps, Dr. Adams served as the Indiana Health Commissioner under Mike Pence before being brought on as the 20th Surgeon General in 2017. As a researcher and public servant, Dr. Adams has focused on the prevention of chronic diseases, receiving numerous awards for his work in public health and humanitarian service.
Dr. Ben Carson | Secretary of Housing and Urban Development (HUD)
While not involved in medical policy in his cabinet position, Dr. Carson does bring a lifetime of medical knowledge to the task force. Dr. Carson retired as a neurosurgeon in 2013 after a career as a pioneer in his field. Known for being the first neurosurgeon to successfully separate craniopagus twins (conjoined at the back of the head), Dr. Carson was also the first surgeon to successfully operate on a fetus in the womb. In 2008, President Obama awarded Dr. Carson the Presidential Medal of Freedom (alongside Dr. Fauci).
---
The task force may be the most visible group organizing response to the COVID-19 pandemic, but much coordination is being taken on by health departments, research institutions, state and local governments, and health agencies. They are all critical components of our nation's response to this crisis and in future posts, we'll explore some of these unsung heroes.