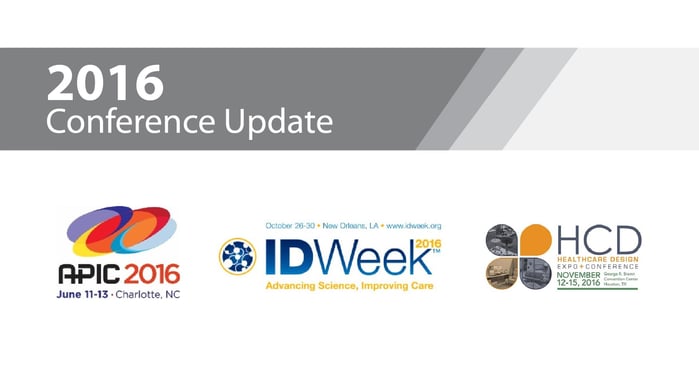 As we draw closer to the end of the year, we thought it would be appropriate to describe the conferences we have attended as well as the way a product like ours takes part in the scientific community that gathers around annual conferences. We attended three such professional conferences, and each one offered a unique opportunity to reach out to a different demographic of individuals and groups related to healthcare.
---
Each year, professional groups gather to share ideas, learn, and network at conferences across the country. These events offer workshops and sessions, social opportunities, as well as large exhibit halls full of vendors. This year, EOSCU had a presence at each of these conferences:
APIC Annual Conference | June 2016 | Charlotte, NC
The Association for Professionals in Infection Control and Epidemiology offers an annual conference for doctors, nurses, clinicians, infection preventionists, epidemiologists, and others engaged in health care. The sessions focus on how to prevent infections in a healthcare facility, from improved injection protocols to advanced technologies.
IDWeek | October 2016 | New Orleans, LA
Infectious Disease Week is actually several conferences at once, bringing together physicians, researchers, policy-makers, administrators and others engaged in aspects of infection, that is, not just healthcare-acquired infections. Sessions ranged from how to combat the Zika virus to genomic sequencing of bacteria. A major portion of this conference is the presentation of new research, especially via the hundreds of posters from clinicians from around the world.
HCD2016 | November 2016 | Houston, TX
The Healthcare Design Expo and Conference hosts professionals engaged in designing and using healthcare built environments. This includes architects, interior designers, engineers, product developers, medical staff, and researchers of evidence-based design. Sessions involved how room and building flow affects care, new research in products and materials, as well as the complexities of how patients interact with their environment and nature as they heal.
---
A part of each of these conference is the vendor exhibit hall, a massive area where manufactures of anything from pharmaceuticals to light fixtures present their products to the attendees. Massive booths including screens, dramatic lighting, samples, and knowledgeable staff await the conference attendee who wants to learn more about new offerings. EOSCU participates with a booth at each of these conference, affording visitors a chance to see our copper-infused materials up close, speak to our sales team, and ask tough questions about efficacy. We were thrilled to be able to include data from our Sentara Leigh clinical trial at conferences this year, following our mission of "leading with the science" rather than with a sales pitch.
Our team benefits tremendously from attending these conference, and not just for the opportunity to speak with potential customers. Attending the conference sessions gives us an understanding of the challenges facing the healthcare industry, from designing healing spaces to curing diseases. We gain access to the newest research and hear from the leading thinkers in infection control.
One of the most thrilling experiences, however, is sitting in a session and hearing the presenter bring up our clinical trial and our product! Even at IDWeek 2016, when our research premiered, at least two sessions already contained data from our study, presenting EOSCU as a product with proven efficacy.
---
EOSCU will continue to be a presence at professional conferences in years to come. We believe that we must continue to be a part of the scientific community of learners, always striving to stay up-to-date and open to new directions. It was only a few years ago that copper was an unknown (and untested) element in the fight against HAIs. At these conferences only a short time ago, our team was fighting an uphill battle, putting forward the role EOSCU could play in reducing HAIs to a population that didn't even know about the biocidal properties of copper. However, with emerging research into copper and now our addition of data to back up EOSCU, our team is finding the conversations are now turning to next steps – how to get a visit to our plant, how to invite a team to speak to their facility, and how they could have EOSCU into their patient rooms. It's truly an exciting time to be a part of team EOSCU!