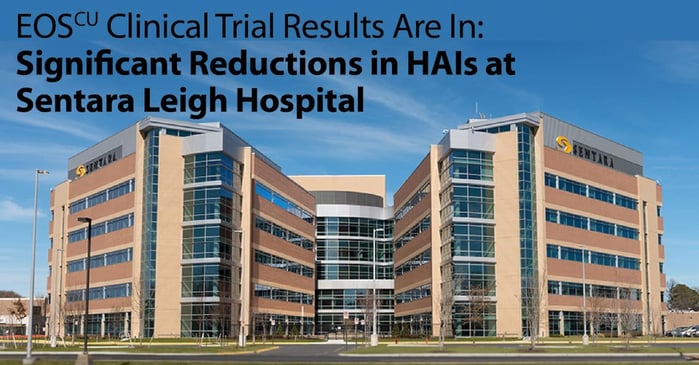 We've spent a lot of time at this blog discussing the rigors of scientific research. We've covered the emerging dangers of antibiotic-resistant pathogens and the many ways hospitals wage war against them. And we've even covered ways that you can help your nurses and doctors keep you safer. Today, we have the opportunity to bring all these topics together into probably our most important post to date: We are finally able to announce that the clinical trial testing the efficacy of EOScu Preventive | Biocidal Surfaces and copper-infused linens resulted in statistically significant reductions in hospital-associated infections (HAIs). Published in the American Journal of Infection Control, this study - the largest of its kind in the world - shows that copper-impregnated hard surfaces (EOScu) and linens (Cupron Medical Textiles) resulted in an 83% reduction in C. difficile infections and a 78% reduction in overall infections due to multi-drug resistant organisms (MDROs) and C. difficile. Here's an overview of the trial, which you can read in full here.
---
The Trial
In 2012, administrators at Sentara Leigh Hospital were approached to discuss a new product entering the healthcare market, EOScu. After hearing about the copper-impregnated material EPA-registered for public health claims, the hospital leaders were intrigued. They knew that their hospital, like so many others around the country, were doing as much as they could to reduce hospital-associated infections - but still falling short of zero harm. Hearing about what EOScu could accomplish, they welcomed the opportunity to be on the cutting-edge of biocidal technologies and agreed to install the material in its soon-to-be constructed, state-of-the-art new tower. In addition to the 14,000 ft2 of EOScu, this tower would also outfit its patient rooms with copper-impregnated textiles from Cupron Medical Textiles.
"There's a limit to what human processes can accomplish. What we were looking for was the next technology that would help us do better."
Dr. Gene Burke, Vice President for Clinical Effectiveness, Sentara Healthcare
The Hospital
Sentara Leigh Hospital served as a perfect location for a trial of this type. Starting in 2013, the hospital began a significant reconstruction, taking down one of two 1970s-era wing and building a new tower in the same footprint while leaving the remaining wing still in operation. This construction plan allowed a new tower to be built with EOScu horizontal surfaces, molded sinks, workstations, and overbed tables already installed, while the old one continued to use non-copper impregnated materials. During the 10 months of the study, both towers, old (control) and new (intervention), were fully operational, enabling data to be collected from both.
The Results
"This is revolutionary. It's practical, but it's revolutionary."
Dr. Terry Gilliland, Chief Medical Officer, Sentara Healthcare
After countless development tests, feasibility studies, laboratory trials, and even short-term clinical trials, a product still must pass muster in a real-world setting over an extended period of time. This trial would test whether the material that achieved a 99.9% kill rate in a laboratory would stand up to the varied conditions, extensive cleaning, hard use, and unexpected circumstances of a real, working hospital. And the result? A resounding success.
The tower with the copper-impregnated materials saw an 83% reduction in C. difficile infections and a 78% reduction in overall infections due to multi-drug resistant organisms (MDROs) and C. difficile. These are statistically significant reductions, meaning that there is a 95% or greater that these results are directly correlated to EOScu and the Cupron Medical Textiles. This significance is the gold standard of scientific research, and an indication of just how great an impact these materials had on infection rates.
The study results will be presented today, October 27, 2016, at IDWeek 2016 in New Orleans, LA. Get the poster presentation below.
The Future
"Each one of those avoided infections is going to get patients out of the hospital quicker, potentially could avoid a readmission, which hurts us on the Medicare side, and all of this is not even discussing the impact on the patient."
Robert Boermann, Chief Financial Officer, Sentara Healthcare

What do these results mean to the future of healthcare? They are a step in the journey we are all taking to "zero harm," the time when hospitals no longer pose an infection threat to the most vulnerable patients. These results demonstrate that there is a new material available that can play a significant role in reducing dangerous and costly infections. The results reveal that there may well be a solution for bridging the gap between human processes and zero harm.
Like all good scientists, we are not simply shutting the book on this research! Data collection continues at Sentara Leigh Hospital, with the materials now fully deployed in the now two new towers (check out the stunning new hospital here). In addition, EOScu is about to embark on a multi-year study with the Department of Veteran's Affairs in Temple, Texas. This study will analyze the reduction in bioburden on a variety of EOScu surfaces as well as track infection rates. And future studies are in progress, and will continue to be, as we continue the fight against hospital-associated infections.