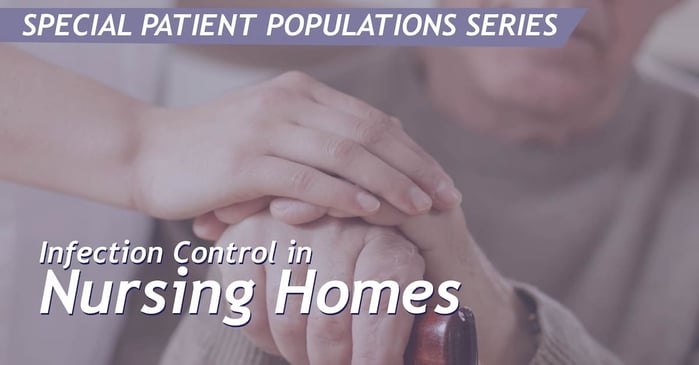 The Wall Street Journal addressed the growing concern over infection control in America's nursing homes, citing research from a recent paper from the Columbia School of Nursing. The article summarizes the four key obstacles to effective infection control in nursing homes: Overuse of antibiotics, inadequate staff/training, lack of resources, and a lack of data/surveillance. In this series of posts, we will explore the nursing home landscape, investigating the origin of and solution to each of those four obstacles. Today we start with an overview of nursing homes.
---
What are nursing homes?
Nursing homes are residential facilities for individuals who need support with daily activities. Unlike independent living communities such as "55+" neighborhoods, nursing homes (or assisted living communities) have round-the-clock nursing staff and support for every aspect of daily life, from bathing to eating to recreation. For residents with greater medical needs, there are skilled nursing facilities which are equipped to handle chronic health issues at the "subacute" level, that is, just shy of services offered by a full hospital. Some nursing facilities are for short-term stays, while others are for long-term care, yet they are collectively called "long-term care facilities" or LTCFs because residents stay there longer than in an acute care setting.
Who owns/operates nursing homes?
Most (70%) nursing homes are operated by for-profit corporations (both publicly and privately held), with the remaining facilities run by not-for-profit organizations or by small owners/operators. The federal government provides long-term nursing care for veterans as a part of the Veterans Administration, but also helps many seniors pay for nursing care through Social Security benefits, Medicare and Medicaid.
How good is the quality of US nursing home care?
# Nursing homes in the US: 15,600
# Licensed beds: 1.7 million
# Residents: 1.4 million
% of nursing homes that are for-profit: 70%
% of beds that are in for-profit facilities: 72%
Median cost of private nursing home room: $92,378 per year
Median cost of assisted living residence: $43,536 per year
Nationwide quality in nursing home care is on an upward trend, with great variation between the best and the worst facilities. In 2008, reports showed that 4.4% of nursing home facilities were providing substandard care, which had improved to 3.2% by 2014. One of the most cited problem areas over the decades of data collection, however, is infection control, which is on the rise.
How big of a problem is infection in nursing homes?
The most recent data shows that there are between 1 and 3 million serious infections in long-term care facilities each year. Infection is the leading cause of hospitalization and death of nursing home residents: Up to 380,000 residents of long-term care facilities actually die of infection each year. By very conservative estimates, infections in nursing homes cost $673 million in additional health care costs per year. Even before COVID-19, the most recent data shows that infections are on the rise.
The most common infections in nursing homes are UTIs (which can lead to fatal blood infections), lower-respiratory infections, skin/soft tissue infections, and gastroenteritis (C. difficile and norovirus). Residents of nursing home facilities are especially vulnerable to infection, with weakened immune systems, higher rates of chronic disease, limited mobility, vague symptoms, more fragile skin, and difficulties with admitting to or communicating pain or symptoms. In addition, residents are far more likely to receive multiple antibiotic prescriptions which can lead to complications and exposure to drug resistant pathogens.
What can we do about infection control in nursing homes?
The future posts in this series will unpack each of the four major obstacles to infection control in nursing homes and highlight the work being done to overcome each one. Stay with us as we explore this critical section of health care.
Editor's Note: This post was originally published in May 2017 and has been updated for freshness, accuracy and comprehensiveness.