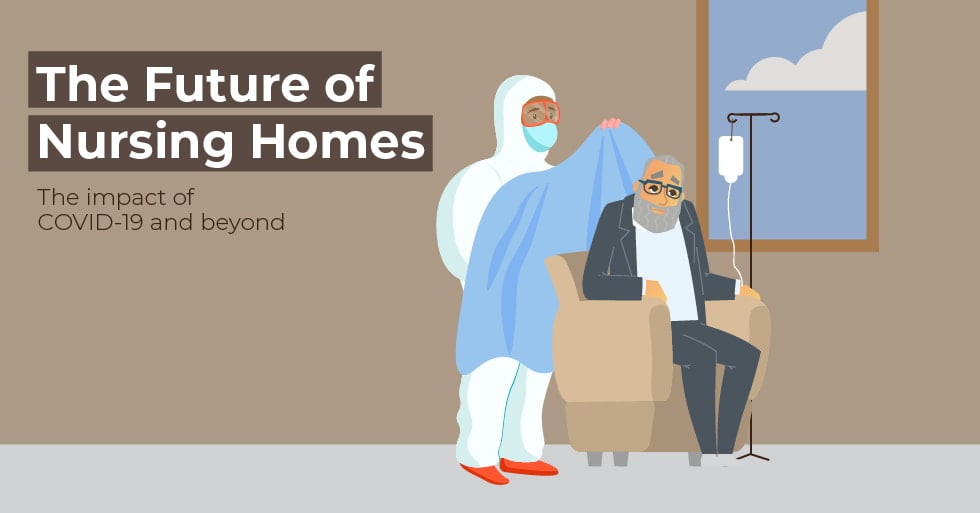 Two important news articles this week took a long look at nursing homes. One examined the deadly impact of the pandemic on vulnerable nursing home populations and their staff, while the other revealed weaknesses in regulation and enforcement meant to protect their elderly residents. In today's post, we'll discuss what the future might hold for nursing homes as they try to keep their businesses - and residents - alive during and after a global pandemic.
---
The COVID-19 statistics at nursing homes are grim: In almost all states, over half the deaths from COVID-19 were residents in nursing homes. In the early days of the pandemic, nursing homes saw outbreaks that affected not only residents, but also staff, as the virus made its way through the facility like a wildfire. The photos of family waving at their loved ones through the window, the stories of last goodbyes whispered into phones, and the images of body bags came as a shock to many Americans. For anyone working in a nursing home, however, these images did not come as a shock. They have known for years that nursing homes present a perfect storm for deadly outbreaks due to lack of oversight, limited enforcement, and vulnerable populations all while under financial constraints.
Nursing homes provide a critical service to our nation, giving 1.3 million Americans a place to live when they can no longer live on their own. Medicaid picks up the bill for over 60% of nursing home bills, while Medicare, through a hybrid state/federal payment system, pays another portion of nursing home care, albeit typically only on a short-term basis. In order to incentivize business investment in this area of great need (over 70% of nursing homes are for-profit), corporate structures such as Limited Liability Corporations and Limited Liability Partnerships help nursing home networks minimize risk while making a profit. While the incentives may aim for good outcomes, too often the profits only come when nursing homes are run with an emphasis on the bottom line.
How do we make sure that nursing homes don't turn into money-making machines with no regard for patient safety? One of the ways is to set up clear regulations, agencies to inspect the facilities, and penalties (or incentives) to enforce those regulations. Unfortunately, while there are plenty of regulations and inspections, the enforcement has been minimal. As recently as 2018, regulations and enforcement for nursing homes was relaxed — eliminating such requirements as having an on-site infection prevention specialists — all in the name of "reducing unnecessary burdens" on the nursing home business model.
Did we ramp up the regulations again when the pandemic started? Well, in March of 2020, Centers for Medicare and Medicaid Services (CMS) did launch inspections of national nursing homes, quickly "clearing" 80% of the facilities as maintaining proper infection prevention practices. However, five months later, 2/3 of the deaths in nursing homes due to COVID took place at these cleared facilities. Even those few facilities that were cited escaped penalties. And yet those violations did not involve complex equipment or expensive issues such as staffing. The violations were for things like not making sure social distancing was maintained in common areas, or for not making sure staff wore (already provided) masks. While the penalties were minimal in the first months of the pandemic, CMS claims that more aggressive enforcement is in the works, with heavy fines for infection prevention lapses, and smaller fines for minor violations. The pandemic revealed weaknesses in infection control that were overlooked, weaknesses that continue to impact residents and staff.
What does this mean for the future of nursing homes? More than half of surveyed nursing homes are spending more money than is coming in, with almost 3/4 of the facilities indicating that they will not be able to stay open if this continues for another year. A significant reason for this is that people are now more wary than ever of going to a nursing home - many more families are choosing to care for elderly loved ones at home rather than risk exposure to COVID in a nursing home. Having the family member at home also helps relatives stay afloat - often, the social security check from that grandmother or grandfather is the only source of income for a family that has experienced devastating job loss. And yet, even in the worst job market in decades, finding staff willing to work in a nursing home is becoming increasingly difficult, especially since the corporations that run them are not spending extra money for incentives. Those who do remain in their positions are facing unprecedented job stress and emotional pressures, from watching their patients die, to being quarantined from their own families, to the ever-present fear of getting sick. And now, they are even facing layoffs - as revenues drop, more and more staff in nursing homes are losing their jobs.
---
There is still hope, however. In our country, we have seen change and progress when confronted with failure. In 1999, for example, a National Institutes of Health report, To Err Is Human, revealed the catastrophic impact of lapses in patient safety measures, including high infection rates. This report sent ripples through the healthcare field as well as through all branches of local and federal government. The result was a reconstruction of patient quality measures and accountability, leading to significantly improved patient outcomes. We did it then for hospitals, and we can do it now for nursing homes. This experience has, like the 1999 report, revealed an urgent need for change. We must take the next steps, addressing what we have learned are the issues plaguing nursing homes and putting our elderly loved ones, and their medical caretakers, in harm's way.