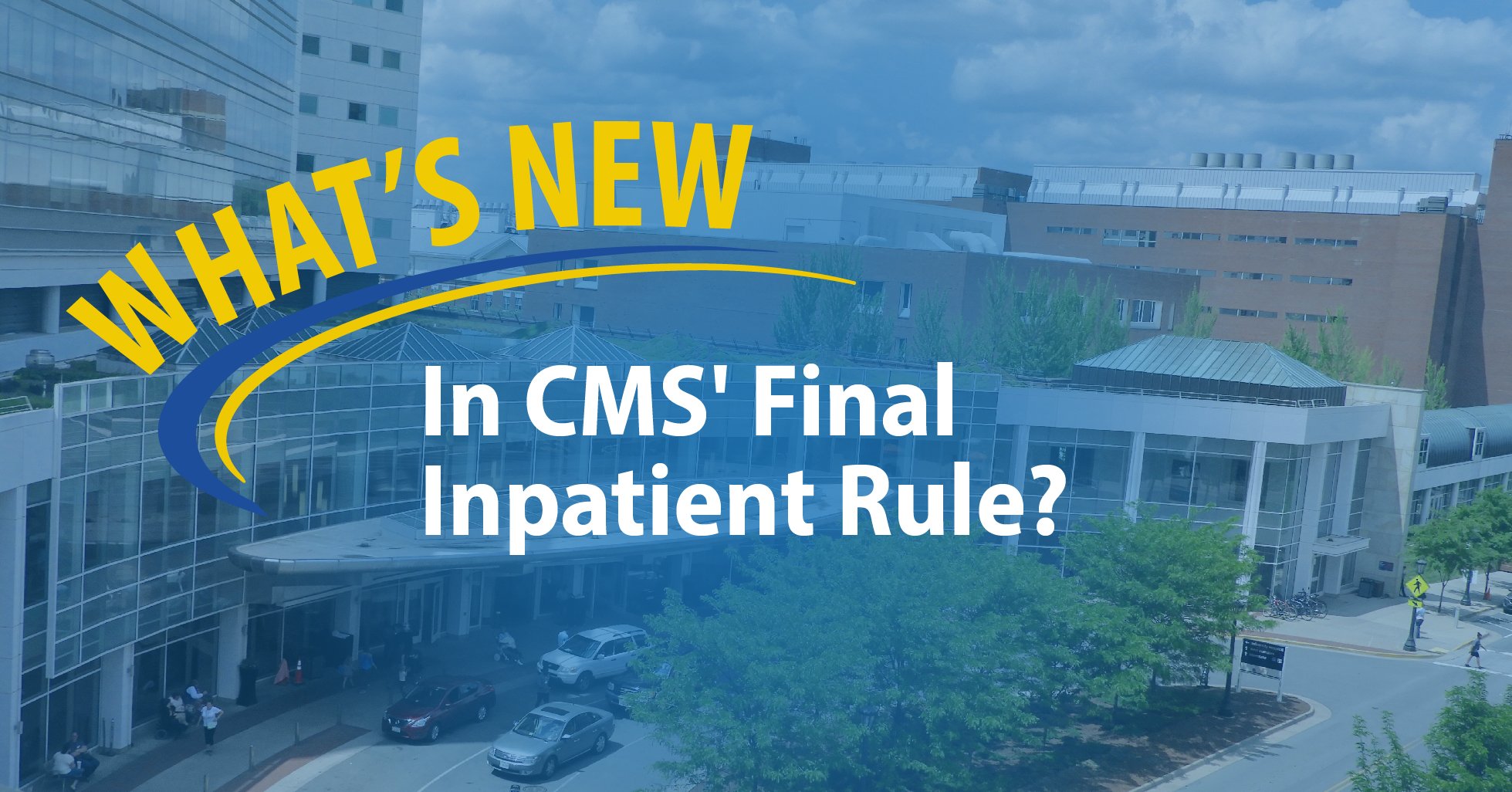 The Centers for Medicare and Medicaid Services (CMS) uses a Prospective Payment System (PPS) to provide incentives for healthcare providers to be effective and efficient. Much like health maintenance organizations (HMOs), the PPS provides a flat fee for each service, encouraging providers to stay within efficient financial limits. (In contrast, the older fee-for-service model incentivized over-utilization of services.) Each year, CMS releases changes to the PPS, in their efforts to remain flexible to changing medical needs and feedback from patients and providers. Earlier this month, CMS released the final inpatient rule (all 2,087 pages), including a few important changes.
The most dramatic change is the increase in Medicare rates in fiscal year 2023 to 4.3%, up 2.6%. To receive this rate, hospitals must demonstrate meaningful use of electronic health records (EHRs) and report quality data. This rate increase is the largest since 1997, and allows for extra funding for compensation to healthcare workers.
Several cuts were made to programs which had reached their statutory expiration. Disproportionate share hospital payments for hospitals which serve a disproportionate number of Medicaid or Medicare patients were decreased by $300 million, new medical technology payments were decreased by $750 million, and enhanced Low-Volume Hospital and Medicare Dependent Hospital payments by $600 million. There were also reduction in data reporting in this year's updates. Previous final rules had special updates to address the COVID-19 pandemic, and this year's update scales back the number of data categories to report. This reduction represents a gradual step-down of data collection as the pandemic becomes more manageable.
Two changes affect how hospitals meet the needs of their diverse patients. A "birthing-friendly" hospital designation will premier in fall 2023, indicating hospitals that demonstrate high degrees of safety and quality of maternity care, from pregnant to postpartum patients. In addition, CMS added three health equity measures to the Hospital Inpatient Quality Reporting Program, the quality data requirement mentioned above. One measure addresses a hospital's culture of equity as demonstrated through data collection, strategic planning, data analysis, leadership engagement and quality improvement. Two additional measures monitor social needs, such as housing instability and food insecurity, which both have direct impact on health outcomes.
While many hospital administrators may find that the payments are not enough to make up for the overwhelming challenges faced by healthcare today, including inflation and staff shortages, there is room for encouragement. As American Hospital Association (AHA) Executive Vice President Stacy Hughes said in a statement,
"We are pleased that CMS will provide hospitals and health systems with increased inpatient payments next year, rather than a cut as proposed, allowing them to better provide care for their patients and communities. As we urged, CMS will use more recent data to calculate the market basket and disproportionate share hospital payments, which yields far more accurate figures that better reflect the historic inflation and tremendous labor and supply cost pressures hospitals and health systems face... That said, this update still falls short of what hospitals and health systems need to continue to overcome the many challenges that threaten their ability to care for patients and provide essential services for their communities. This includes the extraordinary inflationary expenses in the cost of caring hospitals are being forced to absorb, particularly related to supporting their workforce while experiencing severe staff shortages."
Final rules of this magnitude, the result of months of bipartisan discussion in a fraught political arena, are not going to satisfy everyone. This final rule, however, demonstrates how massive public health measures can be patient-centered and fiscally responsible. All of society is affected by the quality of our healthcare system, and this final rule reflects a balanced approach to this interconnection. Share your thoughts on the final rule in the comments below!