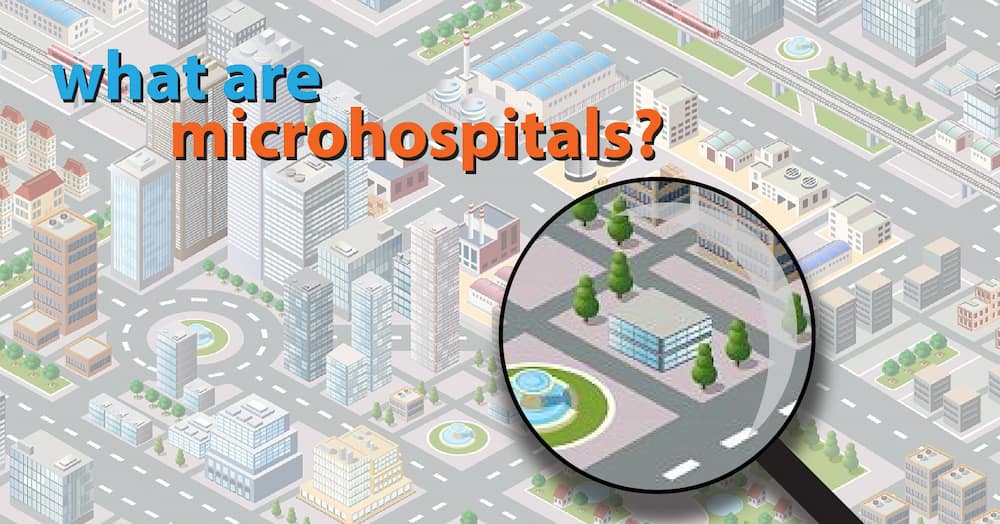 A new trend in hospital design has been popping up: Micro-hospitals. As our nation's health care options grow, incorporating more satellite facilities, ambulatory centers, and specialized hospitals, the need for new, huge acute care hospitals has shifted to smaller models. In today's post, we'll look at the most common description of one of the smallest types of emerging facilities and some possible implications for infection control and prevention.
---
Take the size of a small community hospital, the services of a full-scale acute care hospital, and the location of an urgent care center and you have the newest hospital facility hybrid, the micro-hospital. Since as recently at 2017, the idea of the micro-hospital has seen some growth, with these small facilities opening in increasing numbers around the country.
Microhospitals Snapshot
Bed Size: 8-15 beds
Building Size: 15,000-50,000 ft2
Most Common Services: Emergency, outpatient, short-stay inpatient, and specialty care plus pharmacy, laboratory, and imaging services
Optional Services: Pediatric care, dietary and nutritional counseling, primary care, labor and delivery, chronic conditions
Cost: Higher than at urgent care center, lower than at traditional acute care hospital
Typical Demographic: Large urban or suburban metropolitan areas
What niche does the micro-hospital fill?
Looking at current locations and demographics served by micro-hospitals, these facilities seem to appeal to areas with average to above-average income populations seeking high-quality care in a smaller and more convenient environment. These smaller locations mean more personalized care for patients with the option for inpatient care if necessary, without the large scale and complexity of a traditional hospital. Certainly, micro-hospitals seem to fit the needs of a demographic that has many choices for their medical care and chooses to go to a location that feels more intimate and personal.
What are some downsides of microhospitals?
Micro-hospitals, despite being outfitted with many of the services and infrastructure of a traditional acute care hospital, simply don't have the vast resources of a larger facility. Patients requiring access to advanced technologies, specialized doctors, and full-scale operating rooms may still need to go to a traditional facility. In fact, advisory boards responsible for the ethical implementation of new healthcare facilities recommend that micro-hospitals be built within 18-20 miles of a full-service hospital to ensure the safe transfer of patients.
Another possible negative aspect of micro-hospitals is that they seem to be designed and implemented according to where the market will support them, rather than where medical services are needed. A wealthy population will support a micro-hospital despite having ample access to other medical treatment options, while a lower-income area with less access to medical care might really benefit from a small hospital, but does not have the financial means to support it.
How will microhospitals handle infection control and prevention?
There is no data to speak to how micro-hospitals will fare in preventing hospital-associated infections. However, we can predict that microhospitals will share some challenges with ambulatory and urgent care centers along with those faced by acute-care hospitals. A smaller medical staff will, by definition, have a smaller team of infection control specialists, but that team will still be responsible for a huge range of infection threats. Unlike infection prevention at an urgent care facility, micro-hospital infection control will have pre-and post-operation patients, patients with indwelling devices, and less room for patient isolation. There may be quicker patient turnover at a microhospital, requiring efficient but effective terminal cleaning. The need for preventive measures will be essential, such as high hand hygiene compliance, biocidal high-touch surfaces, and regular monitoring of environmental bioburden.
---
If the buzz about micro-hospitals is correct, these new facilities are a trend to watch. We should not be shy about insisting that these facilities be designed and built with infection control in mind. As those of us in infection control and prevention know, there is no demographic or building that is immune to pathogens and biological contamination, no matter how small, how new, or how exclusive it is.
Editor's Note: This post was originally published in March 2019 and has been updated for freshness, accuracy and comprehensiveness.