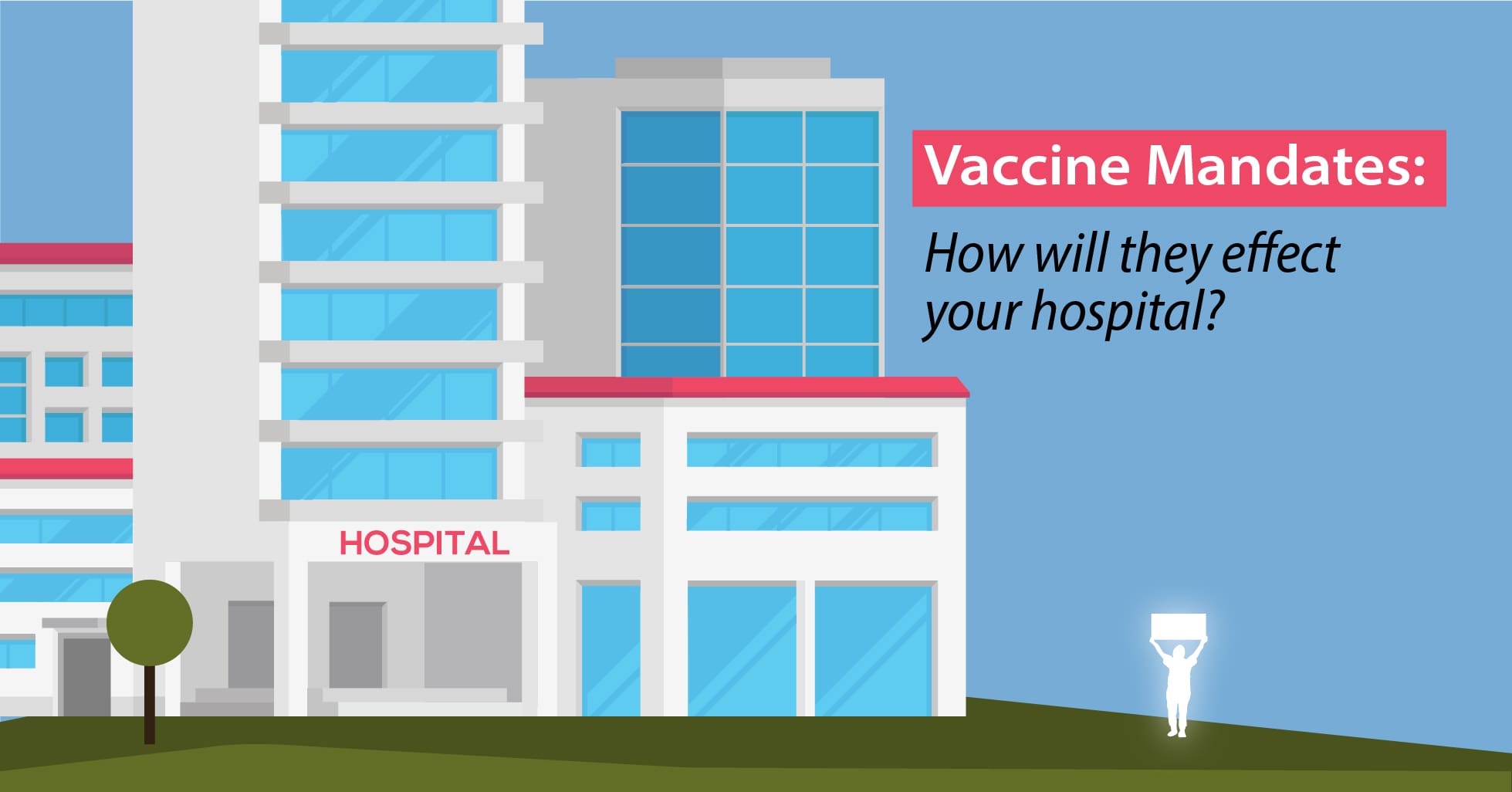 While the majority of Americans, and the vast majority of healthcare workers, support vaccine mandates, there are opponents who believe individuals should be allowed to make their own decisions about vaccines, including not getting vaccinated. Even before the Biden administration's announcement regarding mandates in certain sectors, including healthcare, many hospitals and nursing homes were setting their own dates for vaccine compliance. However, there are many headlines implying that legions of healthcare workers (and first responders, police officers, and others) are quitting rather than getting the vaccine. In today's post, we'll evaluate those headlines and what vaccine mandates could mean for your local hospital.
---
Cancelling elective surgeries. Halting new admissions. Calling in retirees, recent graduates, international workers, and even the National Guard. Are these scenarios caused by rising COVID cases? No. These are steps being taken to prepare for anticipated staff shortages due to looming vaccine mandate deadlines. For instance, in New York, the state with the closest deadline, hospitals are preparing for possible staff shortages. But those shortages actually may not materialize.
Surveys conducted by the The Conversation and Kaiser Family Foundation indicate that while up to 16% of individuals say they will quit if required to get vaccinated (as would 50% of vaccine-hesitant individuals), when actually faced with the decision, most will choose to remain working and get vaccinated. By looking at hospital-reported data, the numbers show that far fewer than 1% of the working population choose to quit rather than get vaccinated. In some areas with more pronounced vaccine hesitance, such as Alabama, hospitals are reporting higher numbers, but still only around 2%.
So what does this mean for you and your local hospital? Data shows that hospitals will not suffer tremendous staff shortages due to vaccine mandates. Staff shortages are still a huge pressure on hospitals. Many nurses have left the field, and surges in COVID cases have pushed many hospitals to the limits to cover all shifts. Those staff shortages, however, will not be affected by individuals who quit over vaccine mandates.
Congressman Drew Ferguson (GA-03), a member of the GOP Doctors Caucus, recently defended healthcare workers' right to choose whether or not to get vaccinated. Interestingly, in his opposition to vaccine mandates, Representative Ferguson brings up the reason why the overwhelming majority of healthcare workers are more than willing to get vaccinated, "Healthcare workers and first responders understand infection control protocol. They know how to keep themselves and the patients safe." Because they understand the critical role vaccines play in infection control, healthcare workers are opting to get the vaccine on their own, or willing to get the vaccine in order to keep stay employed.
---
How about other sectors? Are they experiencing staffing shortages due to individuals quitting over vaccine mandates? While there are some high-profile cases of resistance (NBA players, for example), overall the mandates are not the cause of the rampant staff shortages seen today. While businesses are having a hard time finding and keeping employees, vaccine mandates are not a leading cause. Only companies with 100+ employees are required to have a vaccine mandate (or face a $14,000 fine), and many companies have willingly adopted mandates in order to attract customers. As always, there is tremendous variation from state-to-state (Florida bans banning unvaccinated people from employment or entry, while New York requires proof of vaccination to enter many places of business), overall, you should not feel the impact of vaccine mandates when you go about your business or seek out health care.