There are 6,093 hospitals in the United States. Those facilities can be divided in a variety of categories depending on size, location, demographics, finances, and affiliation. Today's post will explore the various categories into which any given hospital can be assigned. Knowing these categories can help consumers better understand the context of the hospitals from which they have to choose.
---
Acute vs. Long-Term
Acute care hospitals provide short-term care for illness, disease, injury, or surgery. In contrast, long-term care is typically for chronic illness, rehabilitation, or psychiatric care. Most hospitals by far are acute-care facilities (88%).
For-Profit vs. Not-for-Profit
A growing number of hospitals are investor-owned, with excess profits going to shareholders. However, the majority (76%) of community hospitals are still not-for-profit (local government or private organization operated), with excess funds remaining in the hospital. Both types of hospitals are evaluated and rated with the same metrics, and most studies show that the quality of care varies just as much, regardless of category. That is to say, there are high-scoring and low-scoring for-profit hospitals just as there are high-scoring and low-scoring not-for-profit hospitals. Some for-profit hospitals are focused on efficiency in order to lower costs, while others focus on certain procedures and services in order to provide investors with a return. Overall, no study has shown one or the other to provide a significantly better experience for patients.
Community vs. Non-Community
According to the American Hospital Association, a community hospital is any hospital that is not a federal hospital (such as a VA hospital). However, health associations and hospital rating organizations typically consider a community hospital to be also not a teaching hospital. Some even limit the definition to those hospitals that are independently run (not part of a system spanning a huge geographic area) and serving a local demographic. The basic definition, therefore, is a hospital that serves a local community, is run by local leaders, provides financial opportunities for the local economy. A community hospital can be either rural or urban, as described in the next section.
Urban vs. Rural
The geographic location of a hospital can greatly impact its size, services, demographics, employees, and many other factors. Urban hospitals, which make up the majority of community hospitals at 65%, serve a densely populated area, often with several competitors in the same area. They can vary in size, from under 100 beds to over 500. Rural hospitals, in contrast, are mostly small (100 or fewer beds), with small budgets and located outside a major metropolitan area. Rural hospitals tend to serve more Medicare and Medicaid patients, more uninsured patients, and are more likely to be designated a Critical Access Hospital by the Centers for Medicare and Medicaid Services (CMS). Critical Access Hospitals have fewer than 25 beds and are located at least 35 miles from another hospital, and make up about 75% of all rural hospitals. Both urban and rural hospitals can be designated Safety-Net Hospitals by CMS based on the proportion of charity care provided. These hospitals (for now) receive extra funds from CMS to help cover these costs.
Independent, System, and/or Network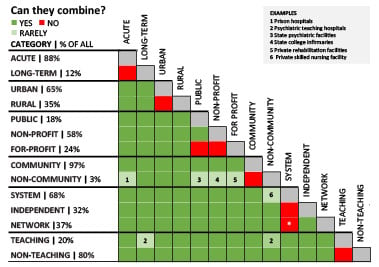 Mergers and acquisitions in the healthcare industry are soaring. As a result, a growing number of hospitals are part of a system of multiple facilities administered from a central office. Systems can include one hospital and several separate specialized facilities, or several hospitals and their related satellite facilities. Separate from systems are healthcare networks, groups of healthcare facilities, physicians, insurers, agencies and others that work together to coordinate services. Members of a network are administered independently, but collaborate for each others' and the community's benefit. Independent hospitals, therefore, are not part of a system, but they can be a member of a network. Systems can be a member of a network as well.
Teaching vs. Non-teaching
Any hospital affiliated with a medical school is considered a teaching hospital. This affiliation can be in the form of a shared administration or organizational integration - the most important characteristic is that it is the setting for the education and training of medical students, residents, and interns. Academic medical centers have ongoing research projects or trials, often giving patients access to the newest procedures and treatments. However, these facilities also tend to treat a disproportionately high number of Medicare, Medicaid and uninsured patients, adding more costs to a facility already shouldering the additional costs of medical education. Teaching hospitals can also have lower quality scores because they tend to treat sicker patients.
Federal vs. State/Local
Medical facilities run by the federal government include Veteran's Administration hospitals and clinics, as well as hospitals run by the Department of Defense and the Department of Health and Human Services. Currently there are 207 federal hospitals in the United States. Some hospitals are operated by local state or county governments. Often, these public hospitals are also teaching hospitals. There are 951 public community hospitals in the US, but that number is steadily declining as financial burdens force facilities to close or become a part of a private system.
---
These are the major classifications for American hospitals, hopefully a meaningful way to look at what can be a confusing landscape of affiliations, funding sources, and membership. American healthcare is experiencing some major changes, however, with public and federal pressures to lower costs, make charges more transparent, and improve patient outcomes. As a result, we should be prepared for some of these categories to shift, merge, or be replaced. As always, we invite you to continue to check back on our blog to stay up-to-date on these and other trends and changes in healthcare!
Editor's Note: This post was originally published in January 2017 and has been updated for freshness, accuracy and comprehensiveness.