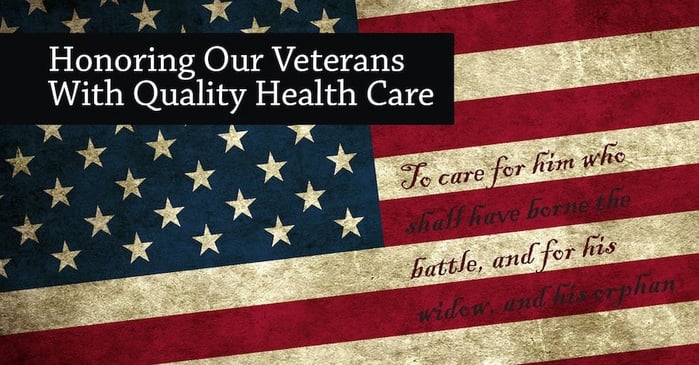 Today is Veteran's Day, a day to celebrate the dedication and sacrifice of those Americans who served our country as a member of our armed services. One of the best ways to honor our veterans is by ensuring that their return to civilian life is healthy and successful. A significant part of that healthy transition is the benefits available through the Veterans Health Administration, or VA, both through compensation and health care services. Today we will explore the history and future of this health services provider, and well as some of the challenges and achievements it has faced over time.

---
Early History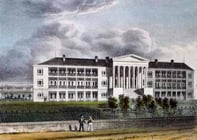 The origins of the VA are found in Philadelphia, where the Naval Home was created to provide room and board to soldiers in 1827. While other homes were founded over the next years, it was the Civil War that would lead to establishment of what would become known as the Veteran's Health Administration. The high numbers of casualties from this war pressed President Lincoln and Congress to create the National Home for Disabled Volunteer Soldiers, which first served as a place for veterans to live and receive some palliative care, but by the 1920s would grow to provide broad spectrum health services, much like a hospital. Over the next decades, many VA hospitals were constructed and consolidated under the VA.
Quick Stats
19,209,000 Projected Veteran Population
9,000,000 Enrollees in VA Health
1,074 Outpatient Clinics
170 VA Hospitals
$200 Billion Budget
Modern History
After President Reagan elevated the VA to a cabinet-level department, creating the United States Department of Veteran Affairs, significant reforms were put into place. VA hospitals began tracking and reporting on key measures and restructuring was put into place to better meet the needs of their distinct patient population. Under President Clinton, the VA was decentralized, giving local control to 22 geographic networks under their own directors. Further modernization under the direction of Dr. Kenneth Kizer transformed the VA into a technologically advanced system with improved logistics and more efficient spending that better met the needs of aging and economically struggling patients.
Today
Today's VA faces many challenges. Despite high patient satisfaction and health outcome scores – many above the private sector – the VA's accomplishments are sometimes overshadowed by its struggles. In 2014, national attention was focused on the long wait-times faced by veterans seeking treatment, the months of waiting that sometimes led to health crises and even death. Since 2015 VA Medical Centers have publicly reported quality metrics like wait times, healthcare associated infections and readmission as part of the Strategic Analytics for Improvement and Learning (SAIL). Legislation like the 2018 MISSION Act seeks to begin solving these problems.
While these struggles persist and remain a priority, we should not forget the many accomplishments of this healthcare system. Among the VA's most groundbreaking accomplishments are the advancements in prostheses. Veterans who lost limbs in service to our country are able to stand, walk, hug, hold, and even run thanks to the bionic limbs invented and developed by the VA. More hidden trauma such as PTSD and other mental health issues are also addressed with an expertise unrivaled in the private sector; mental health practitioners look to VA experts for best practices. Other devices such as sit-to-stand wheelchairs and even an artificial pancreas for patients with diabetes have come from research at the VA. The VA is a leader in clinical trials, in-depth studies, testing devices, and discovering new treatments and procedures.
---
There is always room for improvement in any healthcare facility, including those operating under the VA. We at EOS are proud to be working with the Central Texas Veterans Health Care System in Temple, TX to install EOSCU in all the patient rooms and nurse workstations as part of a clinical trial aimed at determining how the surfaces might positively impact the health of those admitted to the facility by reducing bioburden in the patient environment and reducing hospital acquired infections.* We are grateful for the opportunity to work with the team at the Temple VA and we are honored to join forces in the effort to support our Veterans with improved care and faster recovery.
On behalf of the EOS Surfaces family, thank you, Veterans - past, present, and future.
* In June 2016, EOS Surfaces officially entered into a CRADA (Cooperative Research and Development Agreement) with the Central Texas Veterans Health Care System in Temple. A CRADA is a legal "contract" that allows the Department of Veterans Affairs (VA) to enter into a relationship with a private company in the interest of studying the potential impact of technologies on the care of veterans while not violating the rules that prohibit financial investments or formal endorsements. The study will further test the efficacy of EOS Surfaces' copper-infused hard surface in reducing both the bioburden and the hospital acquired infection (HAI) rates in a healthcare setting.