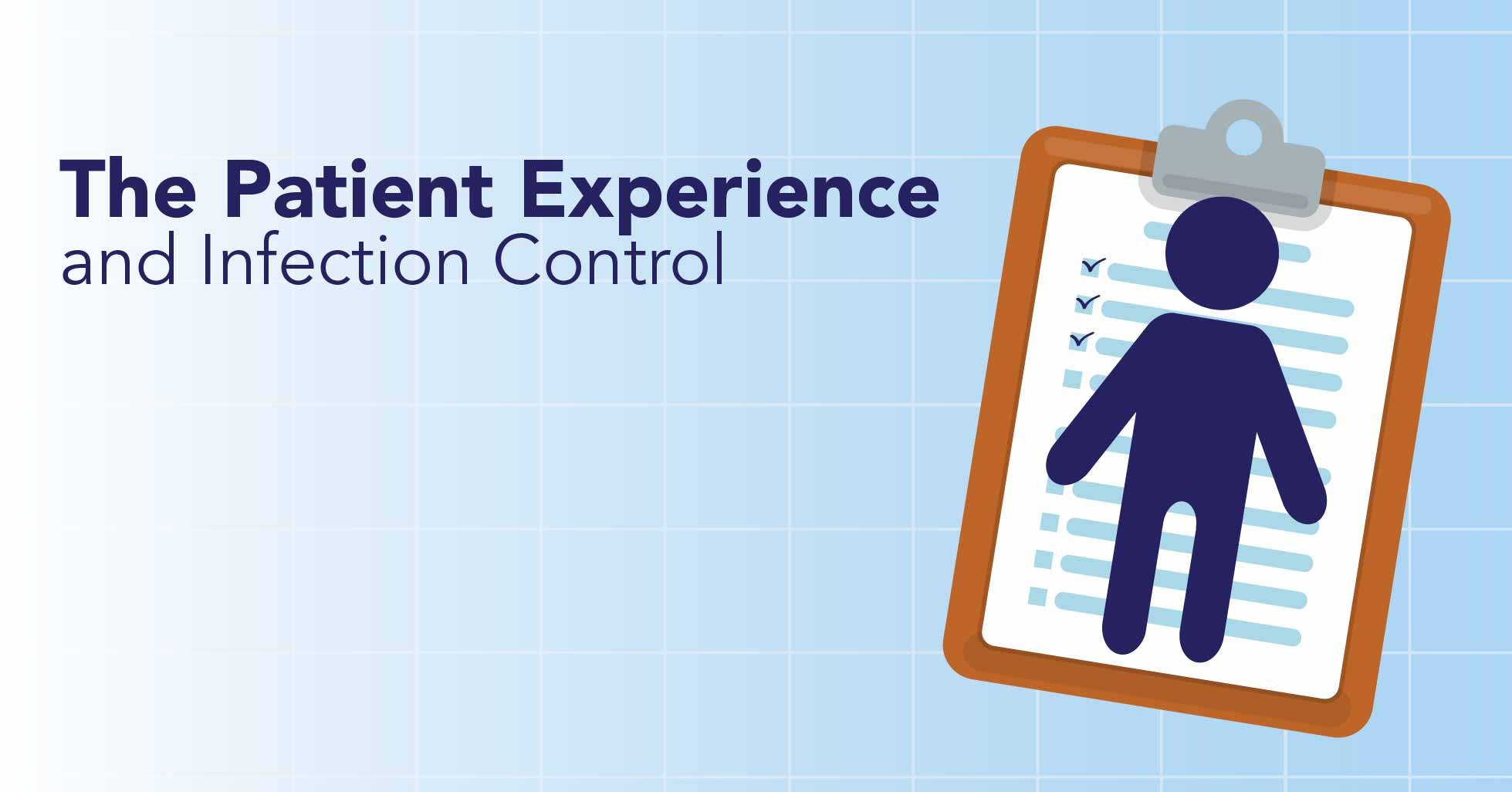 In today's healthcare marketplace, it is growing commonplace to consider patients as customers - and the shoe fits, so to speak. Patients do have choices when it comes to medical care, and now have plenty of ratings and data points to consider when selecting a physician, an outpatient center, a hospital or a long-term care facility. One of those data points is patient experience, which encompasses the many interactions with medical staff, facilities, and representatives. In today's post, we will consider the measurable aspects of the patient experience, including infection control and prevention.
---
What is the patient experience?
Hardly anyone would compare a hospital stay with a vacation at a resort, but many of the same considerations do apply: Comfort, amenities, courtesy, prompt assistance, cleanliness and safety are just a few. While a resort may aim to secure high customer satisfaction scores, a healthcare facility aims for the more specific patient experience scores. A person's satisfaction is based on their expectations, which can be high or low, depending on the person. In contrast, an experience score is objective, measuring whether what was supposed to happen actually did happen, and how often it happened.
The Consumer Assessment of Healthcare Providers and Systems, or CAHPS, is a national survey designed to ask patients about important aspects of their care with which they had direct knowledge. For example, the survey for a surgical patient would not ask about the technical aspects of the surgery, but would ask how many times you saw your doctor before the procedure, whether your procedure was explained using visuals, who you spoke to before and after your procedure, how helpful different team members were, and other very specific, patient-related questions. There are surveys specific to disease categories, demographic groups, and facility type, each with unique questions to "provide robust measures of the quality of health care and offer insight into a dimension that's otherwise difficult to measure objectively." Some of these harder-to-measure activities are quality and frequency of communication with medical staff and degree of difficulty in setting appointments.
The resulting data is available for facilities and systems to use to track their patients' experiences with healthcare over time and across settings. Armed with the data, administrators learn about their facilities from the patient's perspective and can make better decisions about quality of care.
How does infection prevention figure in to the patient experience?
Currently, the patient experience survey does not ask specifically about infection prevention protocols. It could be argued that this is a gap that should be addressed, if the goal is "asking patients whether or how often they experienced critical aspects of health care." The past decade has made it very clear that patient-centered infection prevention activities impact infection rates. So while there are many metrics reported about infection rates, there are currently no surveys that ask patients about their experience with the activities that could prevent them, such as pre-surgical bathing, education about symptoms of infection, and their observation of the use of gloves and handwashing. The rationale is that other surveys collect these data points, but perhaps a patient point of view might provide needed perspective.
However, infection control and prevention do impact patient experience scores, but in ways that must be revealed by correlating patient experience scores with infection status. One study found that patients who acquired a hospital-associated infection (HAI) and were isolated as a result reported worse patient experiences, especially in measures of staff responsiveness and emotional stress. Another, more in-depth study discovered that patients with HAIs were "were less likely to give top scores on questions pertaining to respect, communication, receiving assistance and cleanliness" compared with patients who did not acquire an HAI. These studies indicate a real need to dig deeper into the connection between patient experience and infection control, possibly through the use of targeted questions on the CAHPS survey.
---
What could such a question reveal? Perhaps patterns in handwashing or glove use would emerge, or a statistically significant gap in how patients are educated in how to prevent infection. Clearly, significant exploration would have to be conducted in order to maintain the robust quality of the CAHPS survey, but the potential significance of this information merits consideration.
What is your opinion on the value of the data from CAHPS for hospital infection prevention? Share your thoughts in the comments below!