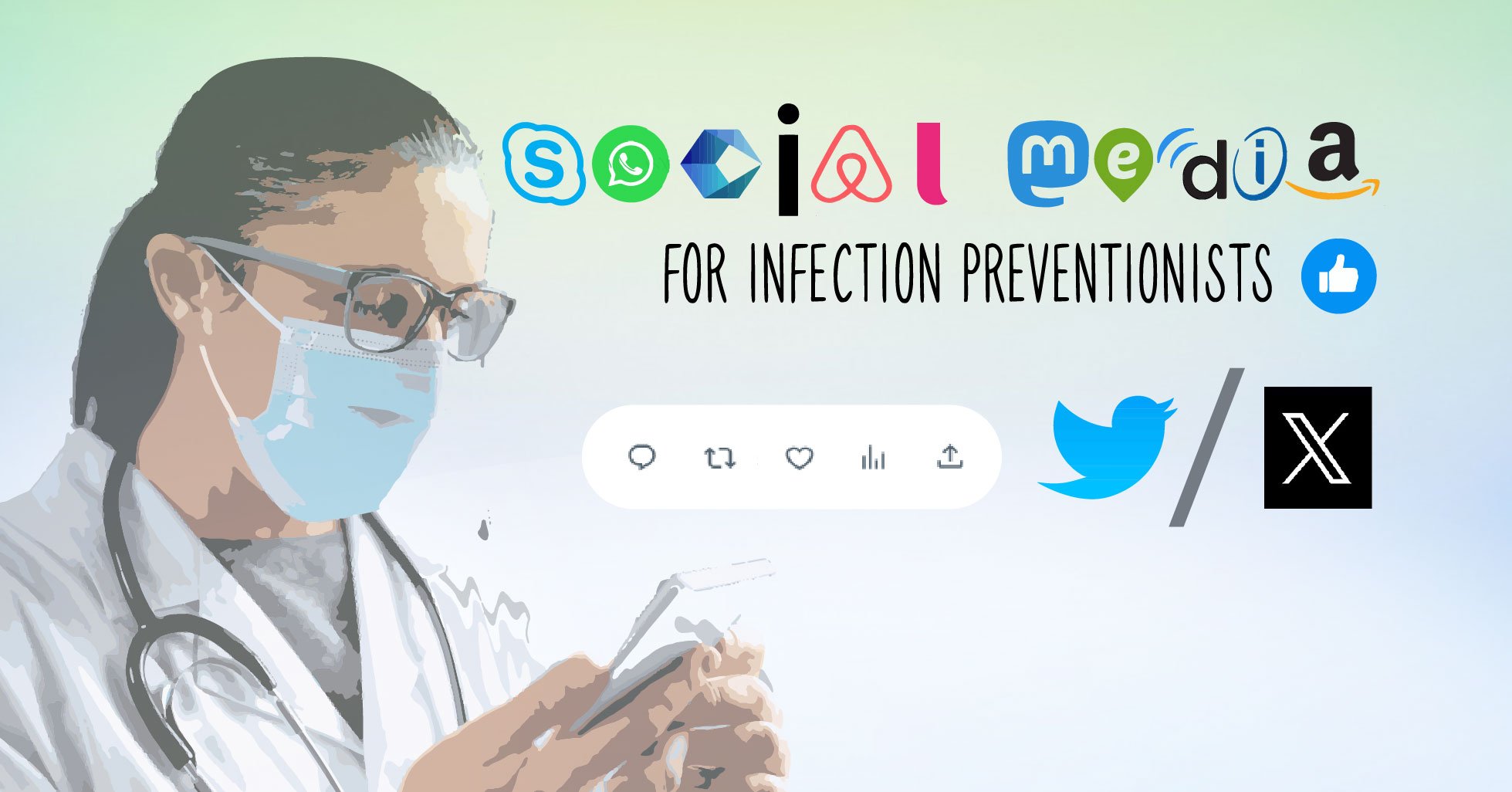 Twitter brought brevity and global outreach to social media. Founded in 2007, Twitter stood out from its competitors as a quick way to reach and follow anyone on the platform without having to be officially linked. The use of hashtags revolutionized social media, allowing users to categorize their tweets and search for others talking about the same topics (across all platforms). These same features elevated Twitter to rank as one of the top social networks, while recent changes and rebranding efforts make it the slowest-growing platform. We don't know what the future holds for Twitter/X, but while it is still being used by almost a quarter of Americans, here is a brief guide to ways it can enhance your career as an infection preventionist!
There are several unique ways Twitter gives you access to the field of healthcare. (For the sake of clarity, we will refer to "Twitter" rather than "X," as this is still new branding.)
Follow the big names in infection control. All the names that come to mind have accounts (Centers for Disease Control and Prevention, APIC, SHEA), so it's just a matter of finding them and following them. The Twitter algorithm will then start suggesting accounts you may like, so you can investigate those and follow if they seem helpful. You can also go to the accounts you enjoy and see who they follow. Here are some accounts we recommend:
JOURNALS | @ICHEJournal @AJICJournal @ICT_magazine @OFIDJournal @IDSAInfo
@CIDJournal @jhieditor
PROFESSIONAL ORGS | @IDSAMedEdCOP @APIC @SHEA_Epi @CBIC
PEOPLE | @CarlosdelRio7 @ErinMcCreary @SundermannAJ @PaulSaxMD @transplantID @MatiH_ID @h_babcock
AGENCIES | @AHRQ @CDCgov @HHSGov @CDCDirector @NIH @PublicHealth @MinorityHealth
Follow infection control hashtags. There are some hashtags that will be used by many of the above-mentioned accounts and those entering the infection prevention conversation. Every conference will also have its own hashtag(s), so be sure to enjoy some live tweets during your next professional development opportunity! Diseases, infections, pathogens - they all have a hashtag. You can do an initial search for a hashtag, and then bookmark it to return to it in the future. Here are a few:
#IPC #InfectionPrevention #AHRQ #IDTwitter #antibioticstewardship
To stay in the conversation, use the hashtags that your colleagues in infection control and prevention are using. Of course, you can make up your own hashtags, which has been somewhat of a trend, but those will not necessarily be found by anyone else. See what hashtags are trending, and add the relevant ones to your tweet.
Retweet to your followers! Just getting through the above steps are an indication of how much work it can be to stay up-to-date on tweets. Nothing is more helpful than having someone you trust share a tweet: You trust their judgement, and you might just discover a new account or hashtag to follow. You can also boost someone's tweet by sharing it, enabling more people to see it and hopefully learn from it.

Direct message... basically, anyone you want.

The magic of Twitter is that you can literally direct message (DM) anyone you want (unless they disable messaging). Want to DM the Director of the CDC? Go for it. President of the United States? Go for it. You may not get a response, but you can make it public by adding any character before the @ in the name. More about DMing here, as the rules seem to be changing frequently.
---
Twitter is an active, constantly changing forum of serious topics. random memes, trolling, extolling, and billions of thoughts and ideas. It can be stimulating, disturbing, englightening, and troubling. However, a professional infection preventionists can get a lot from this evolving platform with careful curating and participation.
Did we miss any of your favorite accounts or hashtags? Add them in the comments below!