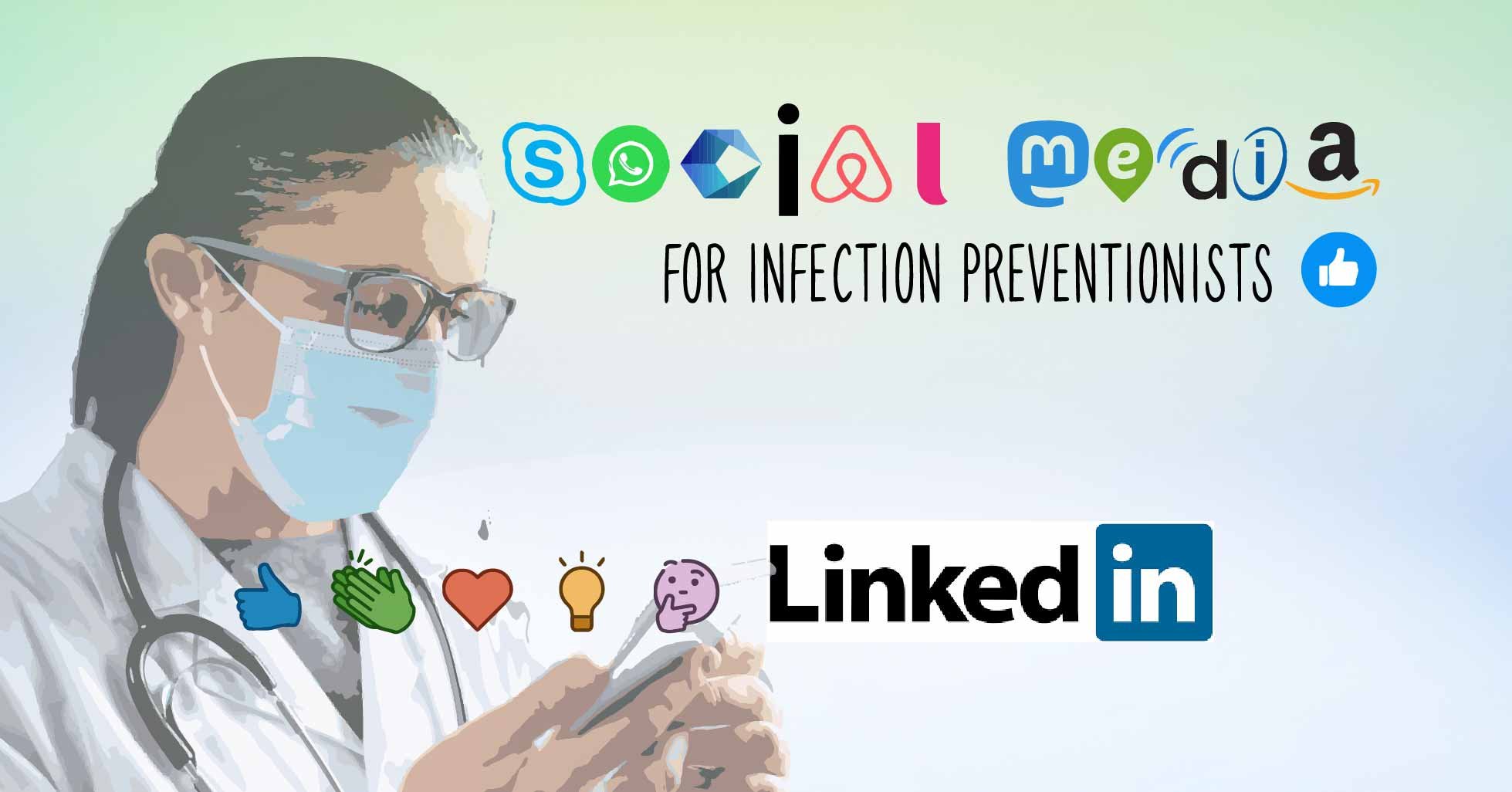 Social media has become integrated into our daily lives more than any other technology. To date, 3 out of 4 American adults have a Facebook account, and over half of Americans rely on social media as a major news source. Access to these platforms has enabled individuals to reach hundreds, if not millions, of people through their phone or computer, with both positive and negative results. One of the major benefits of social media has to be professional growth and networking, and to this end, we are starting a series today that looks at how social media can enhance your career as an infection preventionist. In today's post, we'll start with the ultimate professional networking social media platform, LinkedIn.
---
LinkedIn took social media into the workplace, becoming the premier platform for business networking, career growth, and employment-seeking. Because it focuses on careers, instead of uploading pictures of family and connecting with high school friends, users upload their resumes, share articles about their field of interest and connect with thought leaders and colleagues. Companies also have LinkedIn profiles, where they can hone their online reputation through sharing information, highlighting achievements, and promoting new developments.
Quick Facts About
LinkedIn
875 million members; over 3/4 are from outside the US
16% of US members log in every day, and 40% of visitors engage with a page every week
Slightly more men use LinkedIn (57% vs 42%), but women are far more represented in LinkedIn leadership than other social media platforms (also 42%)
Almost 60% of users are between 25-34
52 million people use LinkedIn each week to search for a job, 8 people are hired through LinkedIn every minute, and there are 101 job applications submitted every second!
Revenue comes from advertising, premium membership, and job scouting services.
How Does an IP Professional Get Started on LinkedIn?
Maybe you already have a LinkedIn profile but never access it, or maybe you've never been on the site in your life. Here are a few steps to get your profile up-to-date and how you can start reaping the benefits of this professional networking platform.
Upload the basics. This includes a professional photo (a candid with a plain background will do), your most recent resume, and complete the fields about yourself. You'll be asked to write a "headline" - you can use this to capture your professional identity, and you can change it at any time.
Don't be modest. If you won awards or received recognition for something, add it to your profile. Also add professional development sessions, conferences, group affiliations, and other professional experiences. Highlight your skills as well, even if they don't seem to be connected to infection prevention. Some examples are: Excellent presentation skills, fluent in Spanish, marathon runner, certified in American Sign Language/lifeguarding/project management/SixSigma.
Get recommendations. Don't be shy to reach out to colleagues, bosses, and other associates to give you recommendations on LinkedIn. The platform makes it VERY easy for them to complete this task. Just be sure to return the favor!

Connect, connect, connect.

Once you get your information uploaded, you need to spend some time connecting to as many people as you can to start growing your network. LinkedIn's unique feature of "Connections" allows you to see not only who you are directly connected to, but also who you are connected to through

your immediate network. This means that if you want to reach out to someone you read about, for example, you can see whether a member of your network knows them better than you do and could possible serve as an introduction. Connection also means joining Groups, which are a kind of public forum where you can communicate with other infection preventionists and IP-related positions. Some of the most active IP researchers and leaders are quite active in various groups.
Which Groups are Best for IP Professionals?
You will undoubtedly find local and niche groups as you begin to be active on LinkedIn. These groups, however, are a great place to start!
Epidemiology and Healthcare Epidemiology | 26,000+ Members
Hospital Infection Control | 17,000+ members
Infection Control and Prevention | 11,000+ members
Association for Professionals in Infection Control and Epidemiology | 5,000+ members
APIC - Association for Professional in Infection Control and Epidemiology | 3,000+ members
Infection Control Practitioner (ICP) | 3,000+ members
Once you are a member of any of these groups, you will be able to interact with other members, comment on posts, share your own posts, and begin to be a part of the conversation!
---
While LinkedIn has a lot to offer infection preventionists, it is not perfect. Since companies know people are on LinkedIn, there will be salespeople trying to reach out to you. LinkedIn is not immune from spam, so you can look forward to getting some unwanted job applications or requests to sell you a product or service. However, many of the groups are well moderated, meaning that the stream is not inundated with ads. LinkedIn remains a great way for infection preventionists to learn, teach, connect, and even seek employment.
In our next installment of this social media series, we will look at what Facebook has to offer the IP professional.
Tells us about your LinkedIn experience - and share your link, if you'd like - in the comments below!