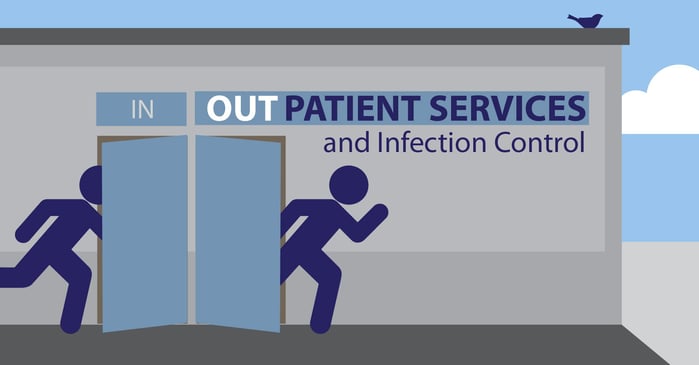 We don't know enough about infection in ambulatory care centers.
A surgical center in Pennsylvania sends a warning letter to 1,000 patients, urging them to get tested for Hepatitis and HIV after discovering lapses in proper injection protocols and equipment processing. Similar lapses are discovered at a New Jersey surgery center, where over 3,700 patients are warned of possible infection risk. Just last year, the West Virginia health department urges patients of a vascular clinic to get tested after a breach improper surgical procedures. In Texas, some 8,000 current and previous patients of a single dental clinic are screened for infection after an inspection finds syringes reused from one patient to another alongside other lapses.
And these are just the scenarios where only precautionary tests are recommended, but there was no outbreak of infection. Others are not so lucky.
An outbreak of Staphylococcus aureus in patients receiving treatment at a North Carolina orthopedic center is traced back to improper preparation of injection materials, with the same strain of S. aureus found in a staff member. In Oklahoma, multiple cases of Hepatitis C are traced back to an oral surgery clinic where equipment was not properly disinfected and syringes were used for multiple patients. A cluster of 8 plastic surgery clinic patients in Missouri experienced surgical site infections, all with the same strain of mycobacteria, all traced to single-use devices used multiple times. At a South Carolina pain management center, 9 cases of Hepatitis C are traced back to improper injection and medication labeling procedures.
The bottom line is that all over the United States, in all kinds of ambulatory centers, infection control lapses take place, and some lead to patient harm.
And shockingly, there is no standard tracking of infections at ambulatory centers. (Some reasons why will be discussed in our next post.)
Hospital-owned outpatient care centers participate in federal surveys and evaluations, as do those facilities receiving Medicare payments. Thankfully, these are the vast majority. But there is no standardized reporting program, and a state has to mandate that its facilities report HAIs, as well as how that information will be collected.
So who regulates ambulatory care centers?
Well, that's a tough question. Medicare has specific compliance requirements surveyed by federal and state inspections plus four private organizations (AAAHC, Joint Commission, AAAASF, and HFAP) have the authority to report to Medicare whether or not an outpatient care facility is meeting those requirements. Those four organizations also grant accreditation for ambulatory health facilities – if the facility chooses to get it. Through applications, surveys, site visits, and inspections, these four organizations ensure that facilities meet federal and state guidelines, including infection prevention guidelines. Some of these organizations collect data from their members and publish reports; not all facilities participate in these surveys. In addition, there are local and state health codes and regulations that a facility must follow.
As for infection control, the emphasis is on ambulatory surgical centers (ASCs) and surgical site infection surveillance, a program operated by the Centers for Disease Control and Prevention (CDC). Again, only the facilities whose states mandate reporting by ASCs must participate. And how many states require SSI reporting? Seven.
in 2012, the CMS began requiring ASC submitting over 240 primary and secondary Medicare claims report quality measures or face a 2% payment penalty. These are specific measures related to common complications with procedures preformed by ACS (like endoscopy, orthopedic and cataract surgery) and the measures have evolved over the decade of the program. In 2022 over 5,300 ASC were required to report to the CMS and almost 5% received a payment penalty. Unfortunately, there is still no plan to make the data publicly available for patients seeking the safest provider.
---
For many procedures, there is a significant shift from the traditional hospital setting to an outpatient setting. With this trend, we need more comprehensive tracking (not just tracking of Medicare facilities or just of accredited facilities) of infection control practices and outcomes. In an effort to help communities design healthcare policies to regulate the facilities in their city or state, the CDC has created a guide to help with licensing/accreditation, provider training and certification, reporting requirements and investigation authorities. Until ambulatory care facilities are as tightly regulated as hospitals, however, there will continue to be breaches in infection control leading to thousands of patients having to undergo testing, or worse, outbreaks of infectious diseases.
Our next post will discuss the difficulties outpatient settings provide to infection control tracking as well as tips for the prospective patient on how to avoid getting an HAI.
Editor's Note: This post was originally published in March 2016 and has been updated for freshness, accuracy and comprehensiveness.