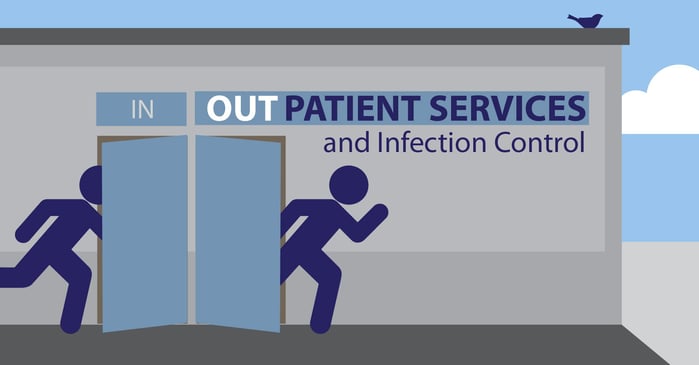 This series on outpatient services and infection control can seem rather dismal. Thankfully, most outpatient facilities are safe and only a small percentage of patients experience an HAI. Nonetheless, the breaches in infection control mean that given the right circumstances, severe outbreaks can (and do) take place. The reality can make us feel powerless and confused. Fortunately, there are things that we can do to help.
---
First, let's look at some concrete things that can be improved. What is the solution to the issue of infection prevention in ambulatory care facilities? Experts seem to agree on a few things:
As the CDC states in their guide, "outbreaks and other adverse events were associated with breakdowns in basic infection prevention procedures." In fact, these lapses appear so common that it is only through sheer luck that more outbreaks have not taken place. On the flip side, basic infection prevention procedures are comparatively easy to implement and enforce.
So what can YOU do?
If you or a loved one choose to have a procedure at an ambulatory care facility, keep these suggestions in mind.
Make sure that it is accredited.

Take a tour of the facility and ask about their infection prevention policy.

On the day of the procedure, keep an eye out for hand hygiene practices, ask that your nurse or healthcare worker open your syringe in your presence and uses a new syringe for each injection. (Not just a new needle.)

Take careful note of the wound care instructions you receive before you are sent home. Ask any questions you may have, and call the facility if you have any more questions when you are home.
---
Another thing we can all do is advocate for improved oversight of ambulatory care centers in our state. Find out what your state's laws and regulations are, and if they are weak or non-existent, contact your representative and find out why. Email your city council or state representatives the CDC's "Outpatient Settings Policy Options for Improving Infection Prevention" guide and ask them to consider taking up the issue with their colleagues. Every voice counts in this effort to improve healthcare.
We hope you learned some helpful information from this series on infection control in ambulatory care facilities.
Editor's Note: This post was originally published in March 2016 and has been updated for freshness, accuracy and comprehensiveness.