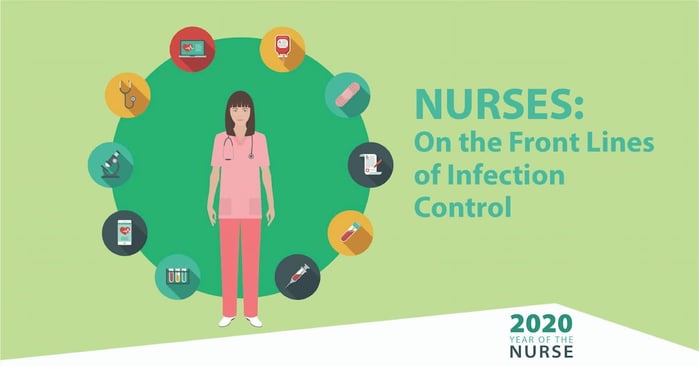 During this ongoing pandemic, nurses are receiving some well deserved gratitude for their critical role in caring for patients. We couldn't get through this without them. There is no health care professional more engaged in infection control than a nurse. While the nursing profession offers many levels of responsibility and mastery, every nurse bears the responsibility of controlling and preventing healthcare-acquired infections. In today's post, in honor of National Nurses Week, we will explore the many ways that nurses help keep us safe from healthcare-associated infections (HAIs).
---
Leadership
Since infection control (IC) became a specialty in it's own right in the 1970s, nurses have carried leadership positions in implementing best practices in clinical care. Even today, hospital IC programs are typically headed by a clinical nurse specialist who is responsible for educating staff, conducting surveillance, implementing new protocols, and reporting to various agencies. While in recent years the demands for data and analysis have meant a more diverse workforce in IC, 82% of hospital infection preventionists are still nurses.
IC Program Implementation
Nurses have more patient-facing hours than any other healthcare profession. While doctors, technicians, therapists and other healthcare workers play critical roles in diagnosing and providing specialized care, it is nurses who monitor vital signs, dispense medication, insert medical devices such as catheters and ventilators, as well as providing critical support in daily living tasks such as bathing and moving. From the most experienced Registered Nurse Practitioner (RNP) to the newest Licensed Practical Nurse (LPN), these healthcare workers are with patients every step of the way.
Because of their intense patient interaction, nurses are also present at almost every opportunity for infection transmission. Their hands touch almost every surface surrounding the patient, and the procedures they perform involve the sources for many common hospital-acquired infections such as central lines, catheters and ventilators.
The steps nurses take to reduce the risk of infection literally save patients lives. Hand hygiene, the single-most important intervention for controlling HAIs, is a vital step for every nurse. (Thankfully, nurses have the best hand hygiene compliance of all healthcare workers. A+, Nurses!) Nurses also help protect patients from HAIs by performing procedures according to best practices. This includes using sterile procedures for inserting or cleaning a central line, but it also includes speaking up for a patient who no longer needs a catheter, advocating with the medical team to have it removed as soon as it is no longer needed. Nurses are also often the first to notice symptoms that could mean an infection, such as changes in patient behavior or slight changes in vital signs. Their ability to notice these small details can mean the difference between preventing a serious infection and having to treat a major complication.
Finally, nurses are there to educate patients and their caregivers about how to minimize infection. Their ability to prepare patients and caregivers to continue infection prevention techniques at home can prevent unnecessary readmissions as well as dangerous, life-threatening complications.
---
The Future
Nurses will continue to play a major role in infection control and prevention. Trends in IC show a diversification in the workforce to include microbiologists, computer analysts, and public health specialists, but nurses will remain at the forefront thanks to their clinical skills and patient-facing responsibilities.
One week is not enough time to thank nurses for what they do every day!
Editor's Note: This post was originally published in May 2018 and has been updated for freshness, accuracy and comprehensiveness.