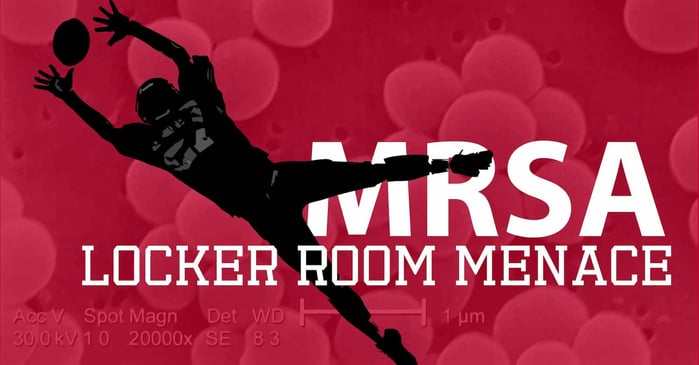 This post concludes our series on MRSA in support of MRSA Awareness Month.
The CDC estimates that 9,000 people died from MRSA each year. Far, far more individuals were infected. This is an infection that has become so prevalent that we have even begun to think it's inevitable.
If we have been lucky, we've never had a personal experience with MRSA, either through ourselves, a family member, or even a friend. This luck may prevent us from seeing the pain, anxiety, and tragedy that comes along with this pernicious infection.
One way to see just how horrific this infection can be is through the star athletes who have suffered from MRSA.
Cowboy's Brandon Noble contracted MRSA recovering from a minor knee surgery. Less than 2 days post op he was fighting for his leg and life. Gratefully he kept both but the experience lost him his NFL career. Giants' Daniel Fells spiked a fever less than a week after a insignificant ankle injury. Rushed to the hospital, doctors diagnosed Fells with a MRSA infection, and unable to contain it with antibiotics, they performed seven surgeries to remove the infected tissue and part of his foot. That too ended his NFL career.
MRSA, more specifically, CA-MRSA, is a perpetual threat to athletes due to the crowded, damp, unsanitary environment of locker rooms. Fells is not alone in having a life-or-death struggle with this bacterial infection. Carl Nicks, most recently of the Tampa Bay Buccaneers, retired early due in part to medical complications from MRSA. That same Buccaneers outbreak had lasting impact on star kicker Lawrence Tynes, whose career ended due to a hangnail which became infected with MRSA.
The NFL has been particularly hard-hit by MRSA. From 2006 to 2008, 33 players contracted MRSA, affecting 11 teams. Many professional teams have suffered lost teammates to MRSA. All contact sports that use shared, damp, crowded locker rooms run the risk of a MRSA outbreak. Football legends Tom Brady and Peyton Manning went mano-a-mano with MRSA in 2008. Basketball stars Paul Pierce, Kenyon Martin, and Grant Hill all lost valuable seasons to the infection. Even non-contact baseball had its share of run-ins with MRSA, with Alex Rios, J.T Snow, and Kyle Farnsworth all contracting infections that affected their careers.
And sadly, this includes high school and college sports as well. High school wrestling teams and football teams have team members struggling with infection. Sometimes the infection can be traced back to specific equipment, but sometimes it is so generalized that no specific source can be identified.
Perhaps one of your home teams has experienced a MRSA outbreak, or one of your favorite players was sidelined by this infection. What should teams do about this? Each league has MRSA precautions and CDC has recommendations. Overall, locker rooms should be cleaned thoroughly each day, using cleansers appropriate to kill MRSA and other infectious pathogens. As for the players, they should be vigilant about their environment, keep wounds covered and disinfected according to doctor's orders, and never share personal items.
Hitting closer to home, maybe one of your children or a loved one plays for a contact sport team. What can you do? Speak with your child's coach and ask if he or she is aware of the risk of MRSA and how it is being avoided. Make sure your child's school has a cleaning policy that includes procedures to avoid MRSA and other bacterial infections (this policy should include cleaning protocols for locker rooms, equipment, uniforms, etc.) Instruct your child to be vigilant about not sharing personal items (clothing, towels, nail clippers, etc.) and make sure your child keeps any wounds covered and disinfected according to doctor's orders.
Here are the Centers for Disease Control and Prevention MRSA Guidelines for Athletes/Coaches:
Cover wounds or exclude a player until healed

Ensure availability of adequate soap and hot water

Encourage good hygiene (showering and washing with soap after all practices and competitions)

Discourage sharing of towels and personal items, such as clothing or equipment

Establish routine cleaning schedules for shared equipment

Train athletes and coaches in first-aid for wounds and recognition of wounds that are potentially infected

Encourage athletes to report skin lesions to coaches and ask coaches to assess athletes regularly for skin lesions
---
The threat of MRSA can be terrifying. However, the more we know about the risks and dangers, the better prepared we will be to avoid infection, and share our information and our stories with others. Thank you for joining EOS Surfaces is shining light on MRSA infections during MRSA Awareness Month. Stay tune as we discuss another superbug next month.
Editor's Note: This post was originally published in October 2015 and has been updated for freshness, accuracy and comprehensiveness.