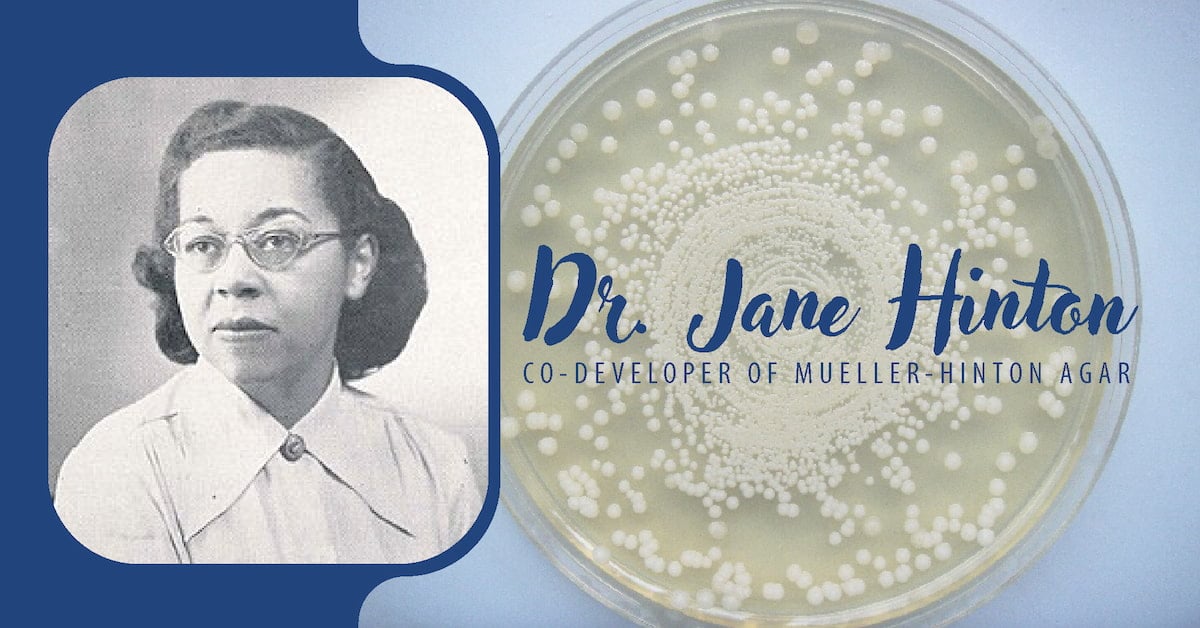 Pasteurization. Gram stains. Petri dishes. Bunsen burners. The science world is replete with processes or equipment named for their esteemed inventors. One such invention, Mueller-Hinton agar, is a growth medium critical to susceptibility testing of antibiotics. In today's post, we'll look at one half of the scientific team who co-developed this important medium, Dr. Jane Hinton.
---
Dr. Jane Hinton's early life was ideal for such a gifted scientific mind. Her father, Dr. William Hinton, was a successful bacteriologist and pathologist and her mother, Ada Hawes, was a high school teacher. In this erudite and supportive home, Jane's natural abilities and inquisitive mind were given free reign. Jane and her elder sister Anne were able to travel throughout Europe at an early age, traveling and studying with with their parents. This breadth of experience can be seen in her college extracurriculars: Orchestra, oratory, theater, glee club, basketball team, sorority leadership positions, as well as serving as several student government positions.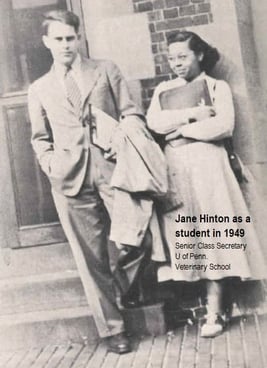 At just 20, after completing her undergraduate degree at Simmons College in 1939, she worked at Harvard laboratories (where her father was a professor) while studying as an assistant to Dr. J. H. Mueller at the New England Medical Center. The young graduate demonstrated her tenacity and creativity by helping come up with a culture medium that stands the test of time. The medium, now known as Mueller-Hinton agar, has become essential to the testing of antibiotic susceptibility in pathogens (see inset).
What makes Mueller-Hinton agar special? It is a nonselective, nondifferential medium, meaning that almost any pathogen can grow on it. The inclusion of starch in the mixture means that toxins released by the pathogen get absorbed and therefore don't affect the antibiotic susceptibility test. Finally, being a loose agar, it allows the antibiotics being tested to diffuse throughout the medium, resulting in more accurate results.
After this early success, Dr. Hinton went on to work as a civilian medical technician in the lab of Hildrus Augustus Poindexter during World War II. This lab was responsible for reducing the impact of malaria and schistosomiasis on US servicemen, a success for which Dr. Poindexter received a Bronze Star.
After completing her laboratory work, Dr. Hinton pursued her interests into veterinary medicine, enrolling at the University of Pennsylvania. Upon graduation in 1949, she and Dr. Alfreda Webb (Tuskegee University class of 1949) became the first African-American women to become Doctors of Veterinary Medicine in the United States and the first African-American members of the Women's Veterinary Medicine Association.
Returning to her home state of Massachusetts after graduation, Dr. Hinton worked in a veterinary medicine practice in Canton until 1955. After years of professional success, she became a federal government inspector with the Department of Agriculture in Framington, MA, a position she held for several decades, helping research and treat livestock disease well into the 1980s. Dr. Hinton passed away in 2003, leaving a legacy of scholarship and dedication.
Editor's Note: This post was originally published in February 2020 and has been updated for freshness, accuracy and comprehensiveness.