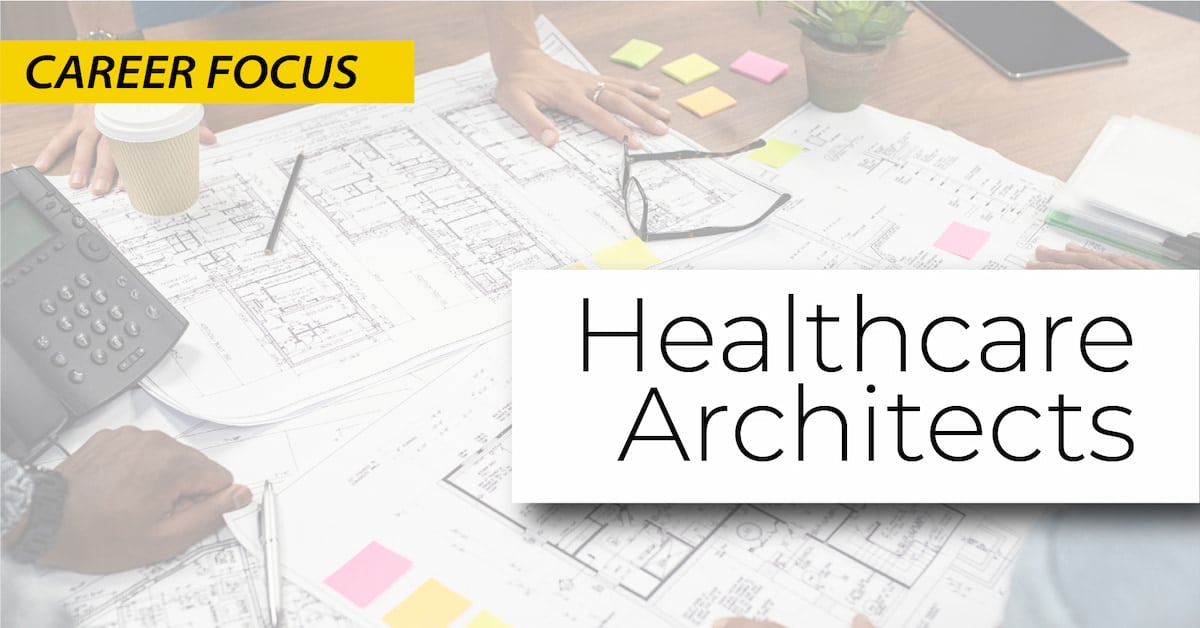 In a previous post, we discovered the many entities that regulate the physical operation of a healthcare facility. Who is responsible for making sure that the building meets many of these regulations? It's the team of architects who design not just the aesthetics of the building, but the way the space will meet the needs of patients and staff. In today's post, we'll look closer at what it takes to become a part of that team of healthcare architects.
---
Most people might imagine an architect spends most of his or her time sketching mind-boggling, futuristic buildings, bringing their or their client's ideas to life in a burst of creativity and style. The everyday life of an architect is far more complex. Yes, an artistic vision is essential, but so are practical concerns such as the livability of the space, the location of electric wires and plumbing pipes, and the knowledge of the many construction codes and safety guidelines. Architects need to be creative and open-minded, but also analytical and with great attention to detail.
The training required to become a healthcare architect starts in college, where many will complete a 5-year Bachelor's in Architecture program (B. Arch.) at a school accredited by the National Architectural Accrediting Board (NAAB). Students take calculus, physics, materials science and engineering courses to learn about the forces of nature that will influence their constructions. They also take history, sociology, and economics courses to learn about how environments affect people and society.
At some point during the last years of this program or upon graduation, the future architect will take part in a three-year paid internship. The National Council of Architectural Registration Boards (NCARB) requires that hours (3,740 total hours) in six career areas be reported and tracked through the Architectural Experience Program, or AXP. At this point, the prospective healthcare architect may find a supervisor who already work in that field, so that many of their tasks can be on healthcare-related projects. After meeting the AXP requirements, individuals can take the state-required examinations as well as the national Architect Registration Examination and become licensed architects. A further certification process is also offered through NCARB.
When a licensed architect decides to specialize in healthcare, he or she can get another certificate through the American College of Healthcare Architects (ACHA). Three years of experience, an additional 6,000 hours of healthcare design experience, completion of the candidate program including portfolio submission and letters of recommendation enable the architect to sit for the ACHA Certification Examination. Additional certifications are available through other organizations, including Evidence-Based Design Accreditation and Certification (EDAC) through the Center for Health Design, a program that is also available to non-architects such as interior designers, nurses, and public heath professionals.
Another (or an additional) path to a specialty in healthcare architecture is by completion of a Master of Architecture degree with a concentration in healthcare. Clemson University, for example, has a graduate program in Architecture+Health within their School of Architecture, while also offering a joint nursing and architecture certification program to encourage collaboration between the two fields. Many of these graduate programs will offer, within their degree program, an additional certification program that adds to the architect's resume as well as helping them prepare for the ACHA exam, or earn continuing education points to maintain licensure.
One of the most important tasks of the healthcare architect is to stay up-to-date on new innovations in healthcare materials and structural advances. Architectural decisions have impacts on patient outcomes and experience through decisions such as location and accessibility of rooms, equipment, nursing stations, and even windows. The architects' decisions impact the flow of people, air, and equipment through a building. The materials specified by architects can actually help reduce hospital-acquired infections, such as the use of biocidal copper and copper-infused materials. In many cases, architects vet new products and ensure their reliability and bring these ideas to their clients, who may not be aware they even exist. The healthcare architect has the most important motivation to stay abreast of these new innovations: patient health.
---
For some architects, the idea of specializing in just one field may seem too restrictive. Others will see the endless opportunities and variety within this one market. Healthcare facilities mean hospitals, but also long-term care facilities designed for specialized care such as dementia, mental illness, or elderly populations. Also under this umbrella are clinics, urgent care facilities, nursing homes, and surgical centers. With the trend of moving many services out of hospitals and into satellite locations, the variety of settings encompassed by healthcare architecture continues to grow. A quick look at recent winners of healthcare design competitions demonstrates just how varied and open this field can truly be.