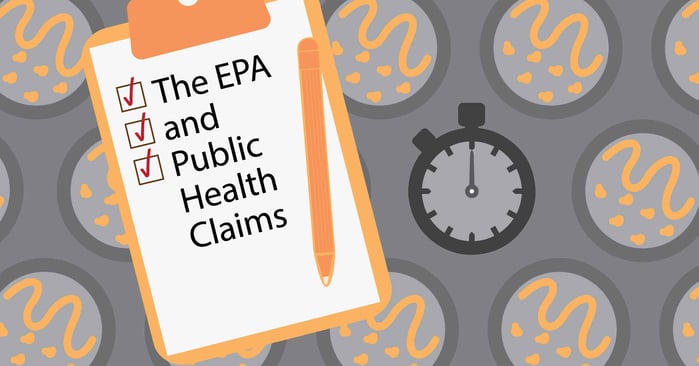 ---
Many products in the marketplace have an EPA registration. What does that mean?
An Environmental Protection Agency's Registered Public Health Claim is the agency's highest standard for products hoping to make statements regarding their impact on harmful bacteria and, as a result, the reduction in the bioburden. Because the registration permits the product to make statements (claims) about killing microbes that are otherwise harmful to people, the agency has set a very high bar for achieving their registration. The ability to make Public Health Claims is a lengthy process that is difficult to achieve and requires that a product first submit testing protocols for prior approval and then the product itself is submitted for rigorous testing against those protocols to ensure that it is both efficacious and durable.
Central to the testing is the distinction that a manufacturer's end product—not just the antimicrobial used in or on it—is submitted to an EPA-approved laboratory. The end product must pass with a zero-fail rate, exhibiting an ability to kill an EPA-assigned range of harmful bacteria within the 2-hour timeframe, while also withstanding a series of comprehensive abrasion techniques without losing any efficacy over time. After being abraded, an EPA Registered product is re-contaminated repeatedly and must continue to exhibit no loss in efficacy in order to be able to make the specific, approved Public Health Claims.
---
While there are many antimicrobial products in the marketplace, there are only two hard surfaces capable of making these EPA Registered Public Health Claims: Copper alloys and EOSCU. Their registrations are based on independent laboratory testing using EPA-prescribed protocols that demonstrate ability to kill specific disease-causing bacteria, including Methicillin-resistant Staphylococcus aureus (MRSA), Staphylococcus aureus, Enterobacter aerogenes, Pseudomonas aeruginosa and Escherichia coli. Any EPA registered product will have specific information on the label, as regulated by the EPA, and will also have an EPA Registration number visible and searchable on the EPA website.
---
Stay tuned for more in-depth information about EPA registration in next week's posts!
Editor's Note: This post was originally published in January 2015 and has been updated for freshness, accuracy and comprehensiveness.