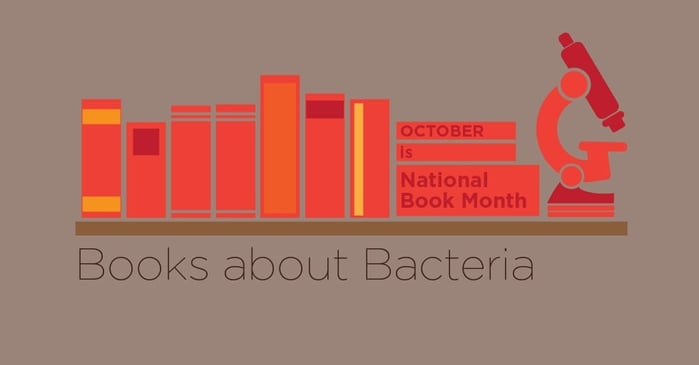 Just as National Book Month concludes, we will take a moment to share some exciting new books about one of our favorite topics: Bacteria! These selections are new this year and suitable for reading beside a roaring fire or giving as a gift to your favorite microbiologist (or science nerd). Any way you choose, these books are accessible without eliminating the science, so everyone will learn something new.
---
Out in paperback in 2017, I Contain Multitudes by Ed Young (Ecco, 2016) won numerous awards when it was first released in 2016. This engaging book introduces the reader to the many ways our own microbiome - the bacteria that live on and in us - is essential to our survival. Young also explores how imbalances in our microbiome can affect everything from our digestive health, to our weight, to our stress levels. An engrossing book that redefines who you really are.
Take a step back into history with Eye of the Beholder: Johannes Vermeer, Antoni van Leeuwenhoek, and the Reinvention of Seeing by Laura Snyder (Norton, 2016). In the 17th Century, the Netherlands was a cultural center of both art and science. This book explores how the artist Vermeer and the scientist van Leeuwenhoek made breakthroughs that transformed how we see our world.
A purely visual journey awaits the reader of Life at the Edge of Sight by Scott Chimileski and Roberto Kolter (Harvard University Press, 2017). Using the most advanced imaging technology, these photographers take the reader on a truly incredible voyage, revealing the complex, diverse, and other-worldly life at the microscopic scale.
Departing from a purely microbiological focus, From Bacteria to Bach and Back: The Evolution of Minds by Daniel Dennett (Norton, 2017) explores how our minds could have evolved from mind-less one-celled organisms. With humor and intriguing thought experiments, Dennett makes an abstract and almost philosophical question readily explored through science and reason.
And for the budding microbiologist, a new science series is available for the youngest readers.Bacteria and Antibiotics (Baby Medical School) by Margot and Antonis Alesund (CreateSpace, 2017) is the first volume in a planned series covering health topics for kids up to middle school. The author's other series is Baby Biochemist, available from the same publisher.
---
We hope some of these titles have inspired you to sit back and enjoy a new book. Now, if we could somehow magically create the time to read them all... We'll keep working on that!