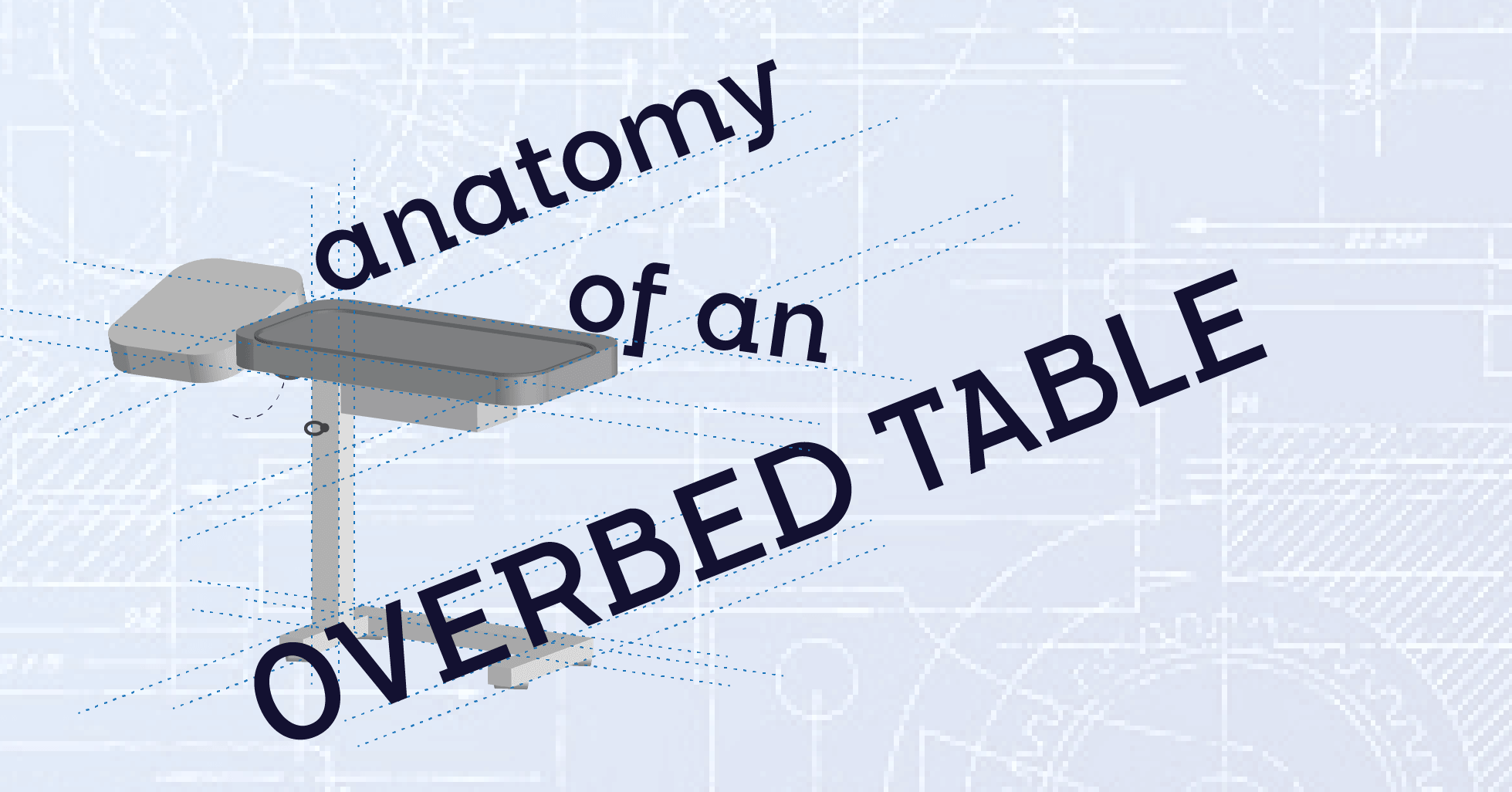 Overbed tables are essential in patient rooms. They serve as a surface for food trays, and can hold personal items such as phones, computers, or books. Even healthcare workers uses overbed tables for holding medical devices or supplies. All this usage means one thing: Overbed tables are one of the most-touched and most-contaminated surfaces in a patient room.
---
An important study identified the most-touched surfaces in a patient room. Coming in first were the linens, as patients basically live in them the entire duration of their stay. Second were the bedrails, which patients and healthcare workers use to grip for stability or rest. Third? The overbed tables, a multi-purpose surface that seems to be used by everyone.
Overbed tables provide a "perfect storm" for bacteria transmission. First, organic materials such as food crumbs and spilled drinks often sit on the surface for hours at a time. Second, everyone from the patient to healthcare workers to visitors handle the table surface, setting objects down, adjusting its location, and simply resting on it. Finally, overbed tables are often not cleaned enough. Environmental services workers often report not cleaning the table if it is covered with personal items, or out of fear of disturbing the patient. The result is a highly contaminated surface that everyone touches and no one cleans, sitting right in the middle of a patient room.
What can be done from a design standpoint? The first recommendation is simplicity. Removing extra accessories, grooves, and components make overbed tables easier to clean and provide fewer opportunities for reservoirs. While overbed tables with all the bells and whistles may be appropriate for some consumers, those at risks for infection should have simple tables that are easy to clean. The second recommendation is a top made from biocidal materials that can kill bacteria between routine cleaning. Surfaces made from copper-infused hard surfaces are EPA registered to reduce 99.9% of infection-causing bacteria in under 2 hours, even after recontamination. One study showed that using these tables keeps the contamination in the benign zone, low enough that the risk of transmission is extremely low. In fact, the copper-infused tables in standard ICUs had less contamination than regular tables in rooms with contact precautions.
---
We all know that dirty surfaces lead to sick patients, and that clean surfaces reduce the risk of infection. One of the first surfaces a hospital can address is the overbed table. Replacing contamination-friendly tables with simple and even biocidal tables requires no room closures, no construction, and no disruption to staff schedules. It's an investment that can have dramatic impacts on infection rates and patient outcomes.
Editor's Note: This post was originally published in September 2019 and has been updated for freshness, accuracy and comprehensiveness.