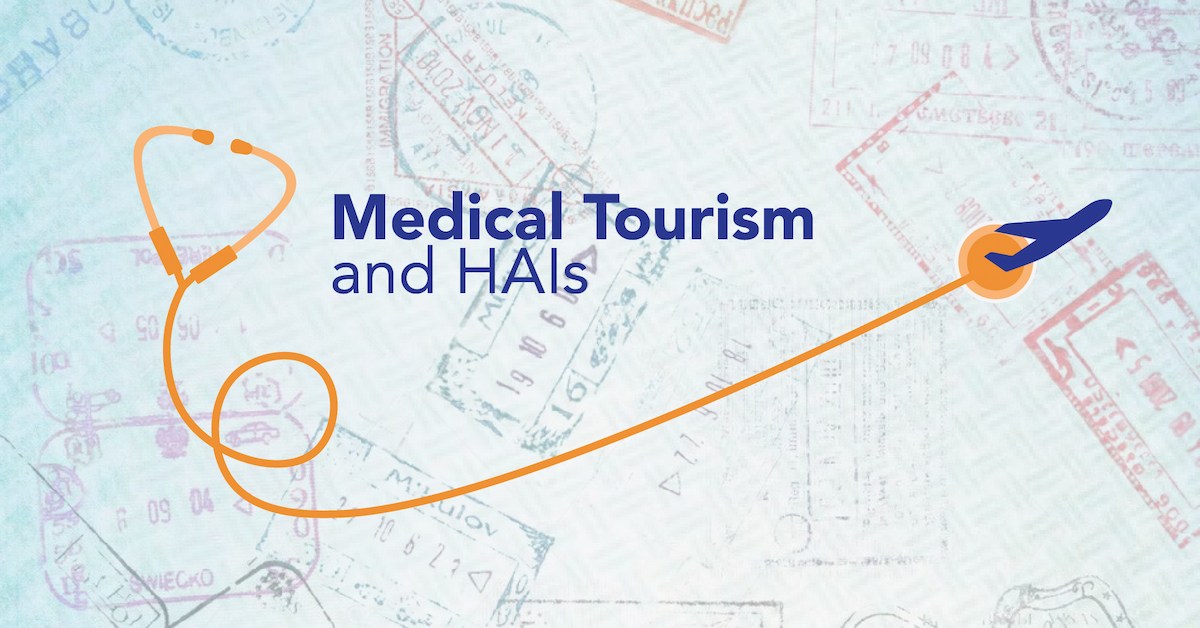 As the holiday season approaches, many of us are planning to travel to see loved ones or take a well-deserved vacation. A growing number of Americans are planning a different type of trip: Going abroad for medical care. From elective procedures to fertility services, more and more Americans are traveling to developing countries to receive medical care at a fraction of the cost similar procedures would cost in the US. While these numbers have not grown at the pace some predicted, there is still a significant portion of our population who will be participating in what is now called "medical tourism." Today's post will explore what potential medical tourists should consider in order to avoid a healthcare-associated infection.
---
In the not-too-distant past, the majority of international travel for medical care was made up of patients from developing countries traveling to developed countries for treatment. The treatment may not have been available in their home countries, may have involved long waiting periods, or was considered unsafe. So the trends were patients, usually better-off individuals needing critical care, traveling to locations with more advanced medial care.
However, within the past decade, those trends have reversed: Now, more patients from developed countries are traveling to developing countries to receive medical care at reduced costs. Current trends, therefore, show patients traveling to locations for cheaper medical care. This travel is now referred to as "medical tourism," and involves patients of modest means traveling to receive elective treatment they cannot afford in their home country. The most common treatments are cosmetic surgery, dental surgery, and heart surgery.
What does this mean for the prospective patient?
The good news: Greater numbers of travelers means a competitive market, one where medical centers must compete for patients. Each center wants to attract patients by demonstrating that they are safe, effective, and cutting-edge. This type of competition has led to the creation of international certification programs that involve on-site evaluations, tracking and reporting of data, and increased customer service, including translation services or multi-lingual staff.
The bad news: The CDC warns that international travel for medical care carries unique risks. The patient faces the possibility of having to stay in the foreign country longer if complications arise, potentially leading to a great deal of expense. The regulation of medications may not be sufficient in the country of treatment, leading to the potential of receiving counterfeit or poor-quality medications. Flying after certain surgeries can also increase the risk of blood clots, leading to dangerous complications. Finally, the risk of being exposed to antibiotic-resistant bacteria may be elevated in certain areas.
What you can do: If you or a loved one are considering medical tourism, here is some information that can help you decide.
1. Check qualifications of the medical center. There are several international accrediting groups that provide this information:
Joint Commission International: World Hospital Search
DNV International Accreditation for Hospitals: List of Accredited Hospitals
International Society for Quality in Healthcare
2. Take steps to prepare for the treatment and set up a plan for when you return. The following professional associations have detailed recommendations and guidelines that can help you.
American Medical Association: Guidelines on Medical Tourism
Organization for Safety, Asepsis, & Prevention: Traveler's Guide to Safe Dental Care
The International Society of Aesthetic Plastic Surgery: Medical Travel Guide
American Society of Plastic Surgeons: Medical Tourism White Paper
CDC: Yellow Book 2016 Information on Medical Tourism
---
With financial challenges in healthcare insurance in the US and the growing opportunities for international medical care, there is no doubt that medical tourism is here to stay.
However, it is important for potential patients to educate themselves before seeking treatment. This information-gathering can be difficult internationally - many of us take for granted how easy it is to get reliable data on our local medical facilities with the click of a button. Potential patients must take these extra steps to double check what they are told and to ask tons of questions as they research their options. An empowered patient is an informed patient - both here in the US and across the globe.