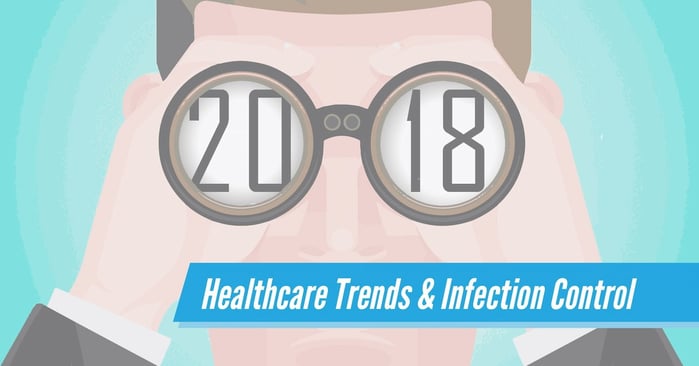 It's that time of year when we all put on our prognosticator's hats and try to predict what the next year will bring. There are numerous entities that have put forth their predictions for healthcare in 2018, so instead of duplicating their fine work, we will try something new. We have gone through all the predictions we could find for healthcare, and put together a list of those we believe will impact infection prevention and control. We hope you enjoy our list!
---
#1 Virtual Reality and Hospital Design With virtual reality technology hitting the mainstream and possibly your own personal cell phone, it is no surprise that the ability to see a 3-D world will impact architecture and design. Software already exists that allows the user to shape and reshape living and working environments from the wires up, and this software will soon become a tool for anyone planning a hospital. Designers and architects will be able to let stakeholders, from nurses to patients, try out a potential space and provide feedback. As for infection control and prevention, this same technology will allow experts to test out a space and see if it is conducive to hand hygiene, terminal cleaning, disposal of waste, and many other actions that play directly into a facilities ability to prevent infections. This technology will also be able to allow users to try out different interventions, such as self-sanitizing surfaces and UV technology, as they design the hospitals of tomorrow.
#2 Telehealth Takes Off Every list of predictions for the past few years has included the rise in popularity and engagement through telehealth, that is, provision of healthcare via telecommunications technology. Video conferencing, shared electronic records, and even text messaging will continue to transform healthcare. As for its impact on infection control and prevention, how that transformation takes shape is still too early to tell. On the one hand, increased telehealth could mean fewer patients entering hospitals, exposing them to fewer hospital-acquired infections. On the other hand, this could mean a higher concentration of sicker patients in physical hospitals, making infection risks potentially even more dangerous.
#3 Hotel or Hospital? Most lists also included the trend to make hospitals more consumer-friendly, adopting many design cues from hotels and homes. Patient satisfaction plays a critical role in hospital scoring, so there will be an emphasis on making the patient experience as positive as possible. One of those design trends seeks to make the patient room calm and homey, requiring products that are able to perform their medical purposes without losing aesthetic value. For infection control, this could mean a need for materials that help reduce bioburden while looking and feeling like premium, hotel-grade products.
#4 Healthcare Goes Retail There has been a growing trend to move micro-clinics into retail environments to meet the consumer's desire for convenience. As clinics enter big box stores, drug stores, and other retail locations, infection control includes monitoring a new mode of transmission: The boundary between a clinic space and a busy retail space. These clinics will have to maintain excellent environmental control to prevent pathogens from crossing this boundary - in either direction.
#5 Staffing Slow-Down One list - but a very well-respected list- included a prediction that heathcare hiring will slow down. While this is an industry-wide prediction, implications for local hospitals could mean more work for fewer people, a condition that can result in less optimal infection control practices. There will be a need for products and protocols that maximize efficiency and decrease demands on workers.
---
Our list here is in no way comprehensive - we didn't touch on financial implications of possible changes to the Affordable Health Care Act and what those changes might mean to enrollment, coverage, access, and premium prices. We also did not include how tax reforms may impact healthcare, but surely changes to the corporate tax rate and other changes will have an impact. However, these five selections seemed to most closely impact the field of infection prevention and control.
Do you have other predictions? Share them with us in the comment section!
From all of us at EOS, have a safe and happy New Year!