Preventive|Biocidal SurfacesTM

, the

o

nly synthetic

hard

surface EPA Registered for Public Health Claims

,

will be at

Booth

333.
SAN DIEGO, September 17, 2015 – EOS Surfaces, LLC, a leading surfaces technology developer and manufacturer dedicated to innovation that increases patient safety and reduces costs of care, will showcase its EOSCU Preventive|Biocidal Surfaces™ (Cupron Enhanced EOS) at IDWeek 2015. EOSCU is the only copper-infused hard surface EPA-registered to make public health claims for its ability to actively and continuously kill 99.9% of gram negative and gram positive bacteria* within two hours of exposure, even after recontamination.
EOSCU is used in healthcare facilities on known high-touch, highly contaminated areas, such as hospital bed rails, overbed tables, and sink bowls, as well as in high- traffic areas like nurses' stations in an effort to help reduce the spread of bacteria from surfaces to patients. As a result, the Preventive|Biocidal Surfaces serve as an integral part of infection control protocols aimed at decreasing the incidence of hospital acquired infections (HAIs).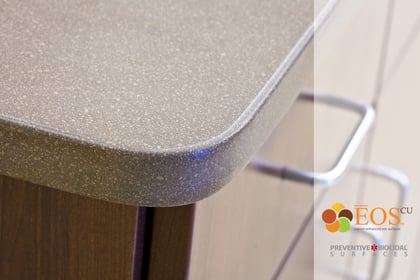 As the only synthetic, hard surface registered for public health claims by the EPA, EOSCU is proven to reduce the bioburden of the patient environment by 99.9% within two hours of exposure – self-sanitizing at least 12 times per day. EPA registration is only given to products that meet the highest standards of efficacy, requiring rigorous testing of claims that are done in environments significantly more contaminated than what is typically found in healthcare facilities. The EPA grants registration only to those products that can meet the highest possible standards.
"We designed EOSCU to help infection control professionals and healthcare facilities protect patients and reduce costs associated with readmissions. The testing we have done on EOSCU and the standards we have met give hospital purchasers and consumers peace of mind that the surface itself is working with existing protocols to ensure a cleaner, safer environment for patients, staff and the community," said Ken Trinder, CEO of EOS Surfaces, the manufacturer of EOSCU.
EOS continues to test the surface's efficacy in real world environments, including being part of the world's largest known clinical trials testing the efficacy of copper in a healthcare setting at Sentara Leigh Hospital in Norfolk, Virginia. All 250 patient rooms and accompanying work areas are outfitted with EOScu (Cupron Enhanced EOS) copper-infused surfaces, including countertops, over-the-bed tables and bed rails.

Continuous bacteria reduction between routine cleanings
According to the Centers for Disease Control and Prevention (CDC), HAIs cause 75,000 deaths per year in U.S. hospitals and add up to $45 billion per year to healthcare costs1, creating an urgent need for facilities to find innovative and effective ways to reduce the spread of bacteria and the incidence of HAIs. Even with rigorous sanitation protocols, bacteria can repopulate on a surface and spread quickly through human-to-human or human-to-surface contact. By constantly killing bacteria, EOSCU helps fill the gaps between punctate cleaning shifts. The surface works without the need for any extra human processes after installation.
ROI in as little as one year
HAIs bring financial implications beyond a patient's cost of care as high HAI rates directly impact a healthcare facility's bottom line. Under the ACA, high readmission and HAI rates impact reimbursement, lost revenue and patient satisfaction. EOSCU is a one-time investment that offers a return on investment (ROI) in as little as one year, based on the potential savings derived by the reduction of HAIs.
The IDWeek conference, which takes place October 7 to 11 at the San Diego Convention Center, brings together healthcare professionals specializing in infectious diseases, epidemiology and prevention. The EOS team will be available at Booth 333 to discuss infection prevention support through the use of copper-infused Preventive|Biocidals during the conference exhibit hours.
* Testing demonstrates effective antibacterial activity against Staphylococcus aureus (ATCC 6538), Enterobacter aerogenes (ATCC 13048), Methicillin-resistant Staphylococcus aureus (MRSA-ATCC 33592), Escherichia coli 0157:H7 (ATCC 35150), and Pseudomonas aeruginosa (ATCC 15442).
EOS Surfaces, LLC, based in Norfolk, VA, is a surfacing supply and technology developer and provider. Founded in 2005 on the principal of innovation, EOS Surfaces offers a variety of progressive surface materials to meet the varied needs of a discerning marketplace.  The EOS product portfolio includes EOS, its award-winning 3 cm solid surface that offers premium design and durability at an affordable price;  GEOS, the most functional recycled glass countertop available and EOSCU, the only synthetic hard surface EPA-registered for public-health claims, continuously killing 99.9% of Gram negative and Gram positive bacteria* within two hours of exposure. To learn more about EOScu, visit www.eoscu.com
For press inquiries contact:
Janet Turley