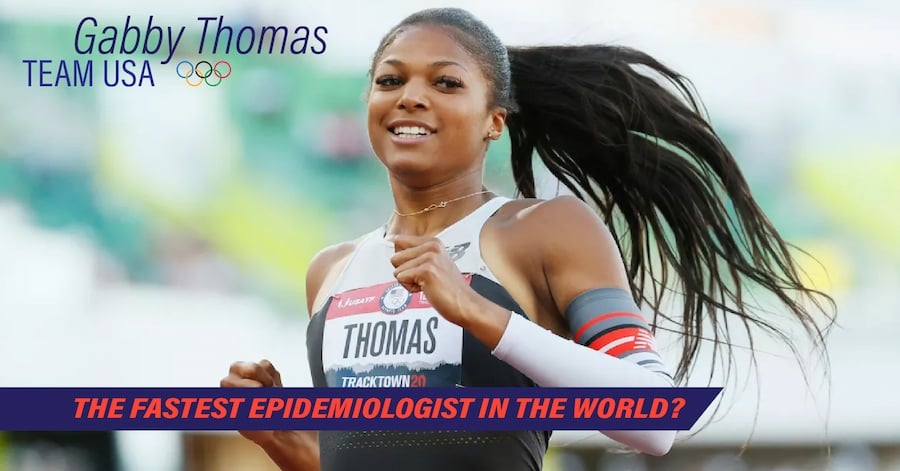 The Tokyo Olympics are just around the corner, with massive logistics being put in place to make sure the athletic even doesn't become a COVID super-spreader event. Epidemiologists are working around the clock to make sure that athletes and their teams are safe and healthy. But one epidemiologist will have other things on her mind: The 200-meter race. Her name is Gabby Thomas, and this Harvard graduate will be representing Team USA as the record-holder for second-fastest time in this event. In today's post, we'll learn more about this scientist/athlete and her plans for global health in her second career as an epidemiologist.
---
Olympians Who Are Also Scientists
It is a special kind of person who can be both a world-class athlete and study to be a scientist! Here are just a few examples - are there any we missed?
Tara Kirk Sell | Silver Medal in Swimming in Athens 2000
Dr. Sell is a Senior Scholar at the Johns Hopkins Center for Health Security and an Assistant Professor at the JH Bloomberg School of Public Health. Dr. Sell focuses on large-scale health events, including natural disasters, terrorism, and the COVID pandemic. She helped the NBA design and implement the "bubble" that allowed them to complete this past year.
Cheri Blauwet | Paralypic Champion in Wheelchair Racing (1 Gold, 1 Silver, 5 Bronze)
Dr. Blauwet is an Assistant Professor in Physical Medicine and Rehabilitation at Harvard Medical School and an attending physician at the Brigham and Women's Hospital and Spaulding Rehabilitative Hospital, where she directs the Kelley Adaptive Sports Research Institute. She graduated from the Stanford University School of Medicine and focuses on sports medicine, adaptive sports and exercise, and women in medicine. She currently serves on the Board of the US Olympic and Paralympic Committee, where she chairs the International Paralympic Committee Medical Committee and serves as a member of the International Olympic Committee Medical and Scientific Expert Group.
Maria Michta-Coffey | Race-Walk 2012, 2016, 2021
Dr. Michta-Coffey earned a PhD in Biomedical Science and Microbiology from Mount Sinai School of Medicine. She is currently training for the Tokyo 2021 Olympics, where she will complete in her third Olympic games.
Gabrielle Thomas was born in Atlanta, Georgia in 1996 to a home where education was highly treasured. Her mother, Jennifer Randall, had just completed her BA from Duke University the year Gabby and her twin brother were born, and went on to complete a Master's and PhD in Education while raising her children. When her mother accepted a faculty position at the University of Massachusetts Amherst, Gabby and her brother were enrolled at a prestigious private school, Williston Northampton School, where they both excelled. Gabby's talents quickly extended beyond the classroom and onto track and field. Inspired at a young age by runners Allyson Felix and Florence Griffith-Joyner, young Gabby broke multiple records even before graduating high school. (She can now count Felix as a Team USA colleague, and Grifith-Joyner as the only woman who has a faster time in the 200-meter.)
This record-breaking followed her to her alma mater, Harvard University, where she studied neurobiology and global health while breaking collegiate records in 100 meters, 200 meters, and indoor 60 meters. While it was these athletic successes that are currently at the forefront of her life, Gabby continues to aspire to a career in healthcare epidemiology, with an emphasis on solving healthcare disparities. She hopes to return to her studies after the Olympics, working towards a Master's Degree at the University of Texas.
---
Not every Olympic athlete has the opportunity or support to achieve their academic dreams in addition to their athletic goals. It can be very difficult to have an academic life outside of training for an athlete at this level even under the best circumstances. Their prime athletic life overlaps their school years, so finding the time to study and train can be difficult and costly. To help, the United States Olympic and Paralympic Committee has an Athlete Career and Education program that helps athletes complete degrees and find careers while they train and even after their Olympics careers are over. Each year, the US program is expanding to allow more and more athletes to pursue both their athletic and academic dreams. You can learn more about their programs here.