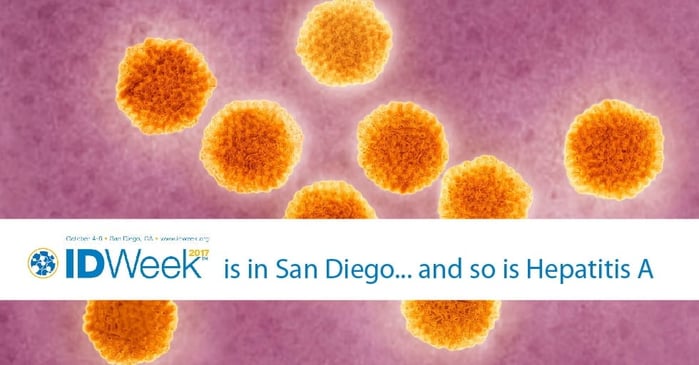 Each year, the major associations in the field of infectious diseases and epidemiology come together for IDWeek. This year's event, going on now, happens to be in San Diego, CA, which itself is going through the biggest outbreak of Hepatitis A in decades. We'll take this congruence of events to highlight the role the professionals taking part in this conference play in working together to handle outbreaks all over the world.
---
First, let's take a look at what is going on with Hepatitis A in San Diego. Starting last fall, area reporting from healthcare facilities showed an uptick in the number of Hepatitis A cases, raising red flags for public health officials. The number of cases quickly escalated beyond what would normally be expected, leading government officials to declare a public health emergency in early 2017.
At this point, the outbreak response began in earnest, calling on the exact professions gathering for this year's IDWeek. Typically, Hepatitis A is spread through contaminated food, often to patrons of one restaurant with a contaminated ingredient. Patterns in the San Diego cases, however, showed a great majority of the patients were homeless and/or drug users. Since Hepatitis A is caused by contact with contaminated fecal mater, investigators were confident that transmission was being caused by the unhygienic living conditions of the city's homeless population, and the intersection between that population with heavy drug users. Since the outbreak was first to date there have been 481 cases of Hepatitis A, with 17 deaths.
In response, the city launched "vaccination events," coordinated efforts to bring vaccines to the most high-risk populations. Those individuals at greatest risk are not limited to homeless individuals and drug users, but also those who come into contact with those populations. To date, 57,000 high-risk individuals have received the Hepatitis A vaccine; public health officials state that the general public not in these high-risk groups do not need to get the vaccine.
This outbreak highlights the very people attending IDWeek: The doctors who first diagnosed the infections, the hospital epidemiologists who reported it to the public health officials, who in turn notified the Centers for Disease Control and Prevention, and finally the healthcare workers who went out into the affected communities to provide the vaccines, educate about hygiene, and advocated for the city to takes steps to help. And this doesn't even include the microbiologists and lab technicians who studied the viral samples and established their relationship! Handling an outbreak, from a small outbreak on one floor of a hospital to one that has affected an entire city or more, takes a team of experts working together.
---
Thankfully, this teamwork is facilitated by professional associations such as those coming together for IDWeek: The Society for Healthcare Epidemiology of America, Infectious Diseases Society of America, HIV Medicine Association, and the Pediatric Infectious Diseases Society. Together, we are all "Advancing Science, Improving Care."