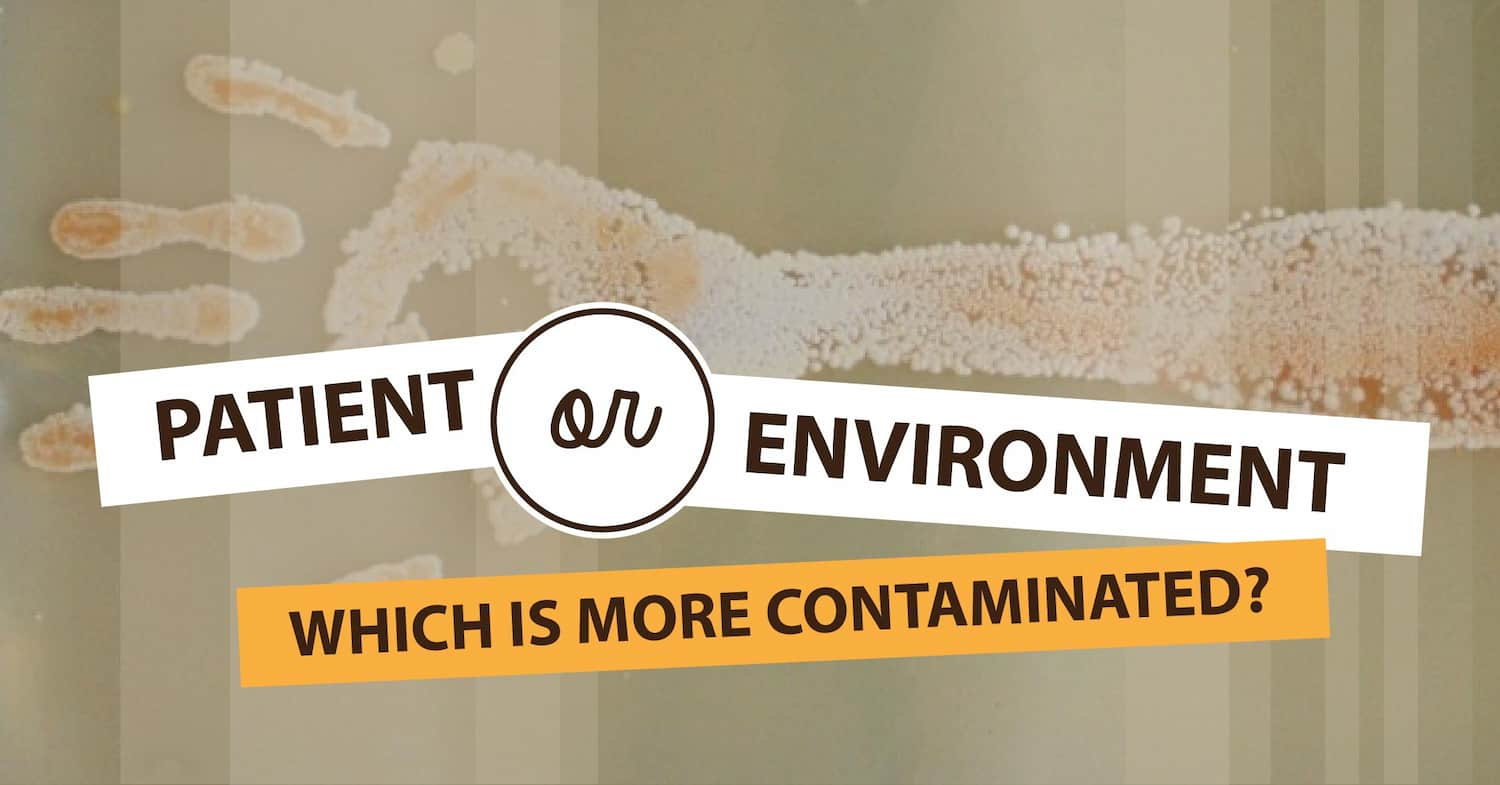 Imagine you are a physician doing rounds in a hospital. You and a colleague walk into the room of a patient infected with MRSA. You are careful to wear gloves, and avoid touching the patient, but instead check his medical devices and other equipment. Alongside you, your colleague performs a routine exam of the patient himself, touching various parts of his body as needed. After the visit, you and your colleague remove your gloves and each pair is tested for contamination by MRSA. Whose gloves are the most contaminated? The answer may surprise you.
---
Infectious pathogens such as MRSA and C. diff are difficult to contain. Because they are so opportunistic and resilient, these organisms can quickly spread from room to room and from patient to patient. Studies have been conducted to try to identify the sources of this contamination. Two such studies revealed a shocking statistic: In the case of MRSA and C. diff, a caregiver's glove is as likely to be contaminated by touching an environmental surface (bedrails, tables, etc.) as they are by touching the patient himself. (Links to the studies can be found at the end of this post.)
What does this mean to infection control specialists, physicians, patients and their caretakers? It means none of us can afford to ignore the cleanliness of the environment of a patient infected with a pathogen. While surrounding surfaces may appear clean, they may in fact be harboring pathogen colonies that will reproduce and thrive until the next room cleaning. In that 24-hour period, the pathogen will have countless opportunities to hitch a ride and cross-contaminate another surface.
Side-by side comparisons between skin contact and environmental contact results put the numbers in perspective:
In the MRSA study, gloves worn by caretakers touching the chest/abdomen area of an infected patient were just as contaminated as gloves worn by a caretaker touching just the call button.
In the C. diff study, as was expected, the most positive cultures came after contact with the groin area. But shockingly unexpected, the second most positive cultures - separated by a very slim margin - came from the bedrail.
---
The importance of reducing the bioburden in the environment cannot be overstated. As another study noted with C. diff in particular, even as the patient recovers from an infection over the course of several weeks, his environment still contains the pathogen and, through cross-contamination, the patient can become reinfected.
The need for thorough surface cleaning as well as biocidal surfaces that kill continuously between cleanings are essential to control environmental contamination. In a way, we have to treat the patient and their room for infection.
---
Editor's Note: This post was originally published in July 2015 and has been updated for freshness, accuracy and comprehensiveness.