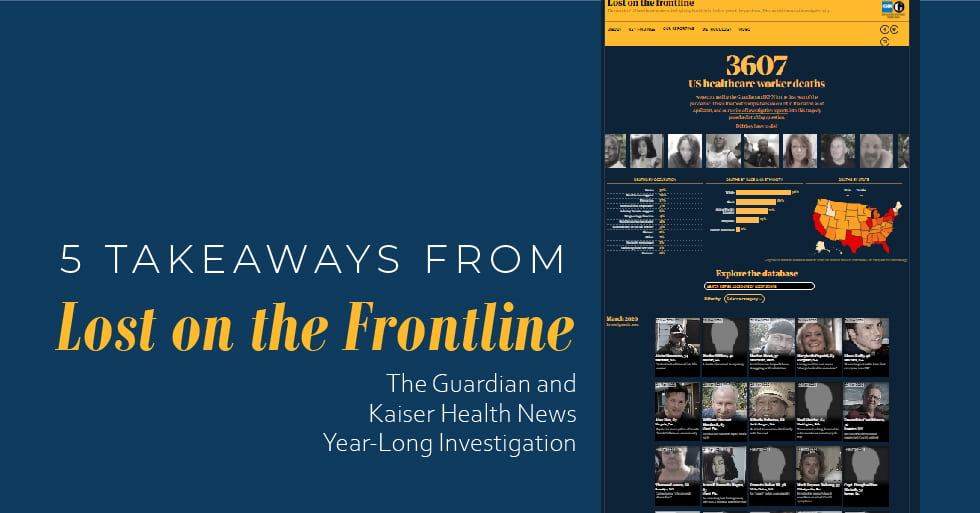 Kaiser Health News and The Guardian launched Lost on the Frontline a year ago, an investigation into the impact of COVID-19 on healthcare workers. Part tribute, part wake-up call, this ongoing report represents the largest accounting of healthcare workers who lost their lives to the pandemic, as well as the conditions that led to the lives lost. Until there is an official, federal count, this important report remains the most current source of this tragedy. In today's post, we'll look at the five most important takeaways from this data.
3,600 US Healthcare workers died during the first year of the pandemic, representing a rate 3x that of the general population. Put another way, you were three times more likely to die of COVID-19 if you were a healthcare worker.
60% of the deaths were people of color, while 33% were born outside of the United States, especially the Philippines. In the United states, white non-Hispanics make up 60% of the population.
Nurses represented 32% of the healthcare worker deaths, support staff represented 20%. Physicians represented 17% of deaths. Workers with close patient contact were at highest risk.
The median age of those who died from COVID-19 is almost 20 years younger (59) than the median age in the general population (78).
Twice as many healthcare workers in nursing homes died as opposed to those working in hospitals. Very few hospital worker deaths were from well-funded academic medical centers.
---
The report highlights some of the reasons so many healthcare workers lost their lives to COVID-19, many of which could have been prevented. Overall, PPE shortages, weak testing programs and poor contact tracing certainly played a role. As the pandemic was in its first months, when most of the healthcare deaths occured, there was more misinformation, missteps and mistakes over masking guidance, employer decisions, and enforcement of workplace safety regulations. While these early mistakes were corrected (to varying degrees), healthcare workers continued to be in harm's way for the duration of the pandemic. And now that the vaccine has been rolled out, health outlooks for these medical heroes should improve. We should all learn from this pandemic that healthcare workers, especially those with significant and sustained patient contact, put themselves in harm's way every day. We all need to make sure they are as protected as possible.