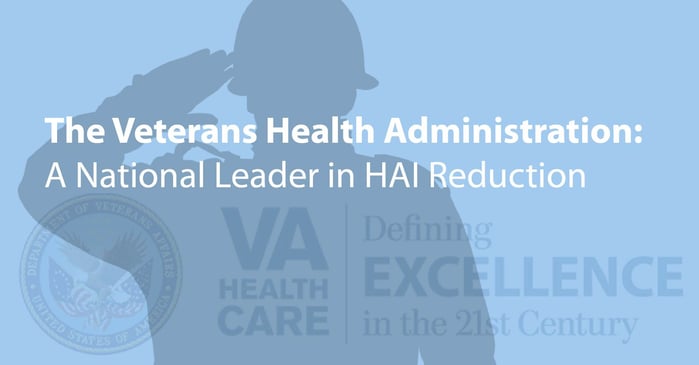 Despite recent controversies about the quality of care in VA hospitals, the network of 163 acute care hospitals and over 1,000 outpatient clinics is actually a national leader when it comes to many treatments and outcomes. Due to incidents of patient harm stemming from, among other issues, prolonged wait times for procedures, the VA instituted a rigorous self-evaluation as well as evaluation from outside experts. The results pointed to changes needed for improvement, but also revealed successes and positive outcomes where the VA exceeds private sector health care. One of those areas is in infection control, and today's post will explore how the VA achieved a leadership role in this area.
---
Since its inception, the VA has achieved discoveries that improved the entire health care industry. The VA was the first to conduct hospital-based medical studies (1925), and created the first implantable cardiac pacemaker (1958), the first successful liver transplant (1968) and invented the first nicotine patch (1984). Doctors at the VA developed successful treatments for malaria, tuberculosis, schizophrenia, diabetes, depression, heart disease and stroke, many of which are still used today. While serving the unique needs of their patient population, the VA has also contributed significant discoveries in the treatment of blindness, design of prosthetics, and the use of functional electrical stimulation that allows patients to move paralyzed limbs. Doctors and researchers with the VA have earned numerous awards and recognitions, including several Nobel prizes.
Today's accomplishments are no less significant. We don't have enough room to mention them all, so we will highlight those having to do with infection.
MRSA Infection Prevention Initiative
Starting in 2007, the nation-wide network of VA hospitals took a three-pronged approach to reducing the number of MRSA infections patients acquired while under their care. The first prong was instituting a mandatory screening for MRSA colonization for all admitted patients, followed by contact precautions for any identified carriers. The second prong was a focused hand hygiene improvement plan with surveillance and frequent reporting. Finally, the VA chose to emphasize a "culture of infection prevention," placing the responsibility for infection control with each and every member of the VA staff. This bundle resulted in a dramatic 87% reduction in MRSA infections in ICUs and an 80% reduction in both non-ICUs and spinal cord injury units.
This success helps the entire health care industry by demonstrating that across-the-board efforts to reduce a specific pathogen can be successful, even with widely-varying demographics, budgets, geographic locations, and resources. In addition, the use of mandatory MRSA screening across so many locations provided helpful data to justify implementing this approach.
The full study can be found here.
Clostridium difficile Infection Prevention Initiative
Introduced in 2012, a nationwide effort to reduce C. difficile infections (CDI) in the VA followed the MRSA initiative model. Added to this bundle were several infection control strategies specific to the control of this particularly virulent and persistent pathogen, including environmental management and molecular diagnostic approaches. As a result of this initiative, CDI standardized infection ratios decreased 15%.
This continues to be a successful initiative, with reductions higher than those achieved by National Healthcare Safety Network (NHSN) facilities during the same time period. Some of the data that will have far-reaching impact includes a finding that a diagnosis of CDI based on a positive LabID Event rather than on a list of diagnostic criteria can result in more accurate numbers and more accurate treatment.
The full study can be read here.
National Antimicrobial Stewardship Initiative
Just this year, the VHA has published results from an antibiotic stewardship program aimed at reducing unnecessary antibiotic use. After successfully implementing stewardship policies in 92% of VHA facilities, the national network saw a decrease of 12% in antibiotic use. Facilities reported concurrent reduction in the need for antibiotic prescriptions for resistant organisms as well as declining hospital readmissions and mortality rates. As with the previous initiatives, these reductions - across over 100 facilities with varying demographics and resources - demonstrate that the VHA approach is reliable and generalizable.
The full study can be read here.
---
The sheer size and scope of the VA health system provides a rich environment for cutting-edge research and treatment. While the size of the patient population has been a logistical and financial obstacle in recent years, this unmatched network of highly qualified physicians, innovative researchers, and a unified philosophy of providing excellent care makes the Veterans Health Administration a source of leadership and best practices that benefits us all.