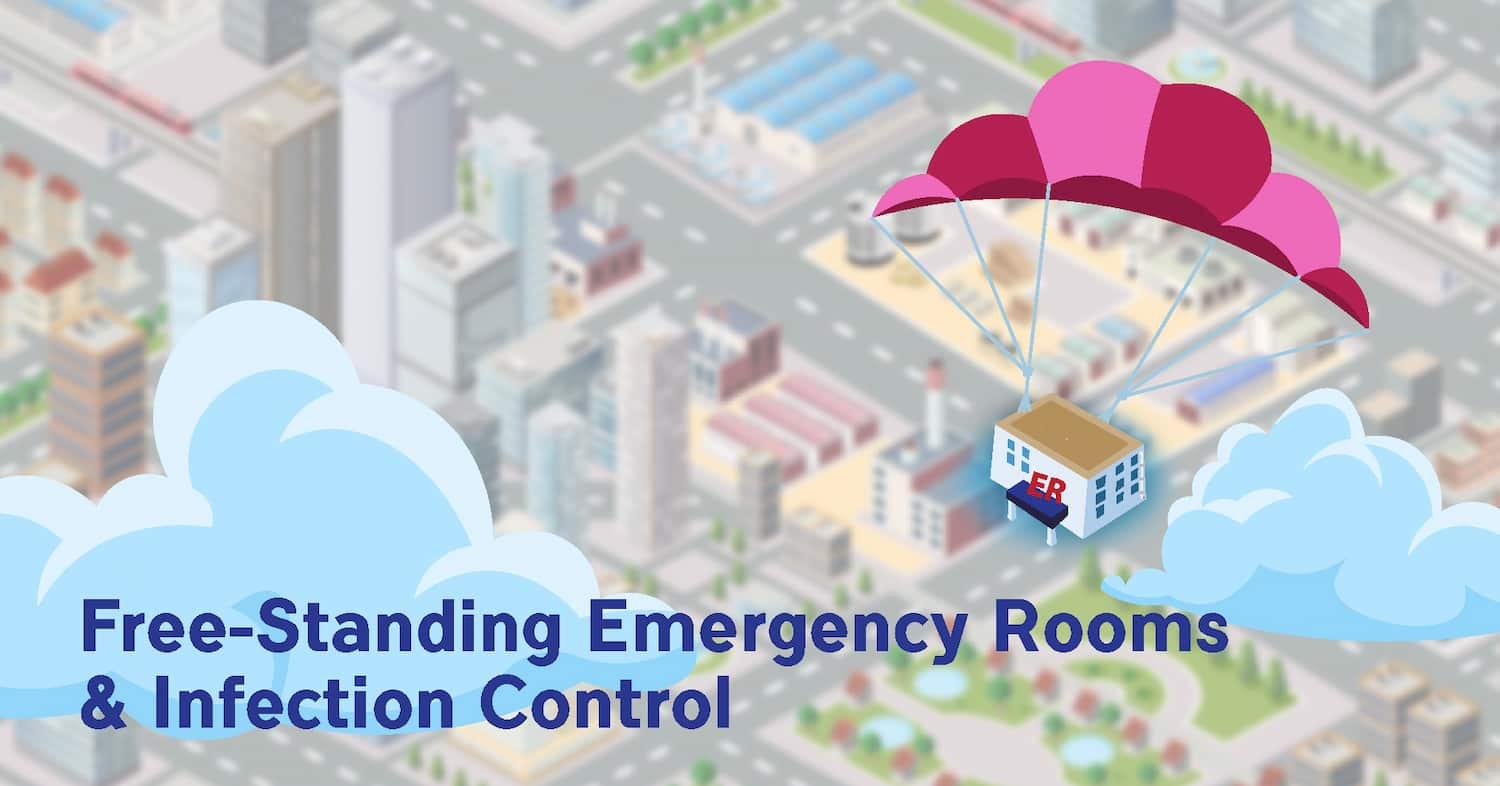 A new market for healthcare is experiencing a bit of a boom: Free-standing emergency rooms (FSERs). These facilities provide 24-hour-a-day emergency care, including imaging, trauma, and other services typically associated with a hospital's emergency department. While they attempt to provide a helpful service for the communities they serve, FSERs face a number of challenges, including infection control and prevention. In today's post, we'll explore these facilities and what they offer the healthcare marketplace.
---
FSERs are actually not new. They first entered the field in the 1970s as a way to increase access to medical care in remote areas. Their recent growth is due in part to the loosening of Certificate of Need (CON) regulations, which can limit the number of healthcare facilities built in a certain area. If a state does not have a CON law, then facilities, including free-standing ERs, can be built wherever a health system or independent investor wishes to build it. For that reason, explosive growth in FSERs has been seen in Texas, Arizona, and Colorado.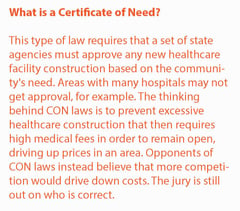 So what is the push to build FSERs? Despite not all of them being approved by CMS, and some not accepting all insurance, FSERs are considered a good return on investment. Customers like the 24/7 access, the ability to have imaging and treatment without long wait times, and the convenience of having a facility close by. FSERs in more affluent communities benefit from patients being able to pay the medical facility fees that are not covered by CMS or insurance companies, and who are willing to pay more for convenience. FSERs also allow healthcare systems to expand their brand into a new area with relatively little investment - a FSER is far more economical to build than a new acute care hospital. And with medical transportation agreements, FSERs serve as a conduit for new patients into other health facilities.
In order to continue these lean, efficient, and profitable FSERs, there is one significant cost cutting decision that impacts infection control: Low staffing. FSERs often have one to two physicians on-site at any one time, supported by a small team of nurses and technicians. What they don't have is a constant presence of a dedicated team of environmental services employees. In other words, there is no janitorial staff. This means that the healthcare workers are de facto janitorial staff, responsible for cleaning and disinfecting between the 2-3 professional cleanings per week provided by outside cleaning companies - and between their own important healthcare duties. The result is a healthcare facility that may not be as clean as it should be to prevent infection transmission.
There are other infection control challenges facing FSERs. It is difficult to track the impact of any infections that may be spread at a FSER because there is no tracking or pubic reporting of infections unless the FSER is affiliated with a healthcare system. Even then, the reporting may not catch all infections, as patients are so quickly transferred to acute care hospitals that any infection they may have picked up at a FSER is attributed to the acute care hospital instead. In this way, FSERs are no different than ERs attached to hospitals - the ER is not as heavily involved in infection reporting because of the pass-through nature of the department. However, if there is an outbreak, tracking a pathogen that may have originated in an attached ER is significantly easier. And let's remember, ERs in acute care hospitals are cleaned daily by a dedicated staff of environmental services workers.
So what can FSERs do? The cost of a permanent, dedicated environmental services crew (and the associated costs of salaries, health insurance, training, recruiting, human resources, etc.) does not fit into the financial model of the FSER. Tracking and reporting requires a dedicated infection control staff, which FSERs do not have (they may share an infection control professional with several other facilities who provides guidance).
One of the quickest supports to better infection control and prevention in FSERs are changes made to the built environment. These are some design choices that could impact bioburden levels in FSERs:
Select surfaces and furniture that is easy to clean. This means smooth seams, durable finishes, solid materials, and few corners. Design details that include added surfaces, such as cut-out details, stacked molding, rough materials, should be eliminated.
Make human process efficiency central to the design. Make sure that cleaning supplies are accessible throughout the facility - in each room, if possible. Chose cleaning supplies that require minimal prep: Pre-mixed chemicals, wipes, single-use scrubbers. Again, make it easy to clean.
Choose Preventive Biocidal materials to kill bacteria between cleanings. Copper-infused hard surfaces and copper alloys provide a way for surfaces in your facility to self-sanitize. EOSCU can be fabricated into counters, tables, and workstations as well as bedrails and grab bars. Copper alloys on fixtures, handles, and push bars mean even complex mechanical items are biocidal. With Preventive Biocidal surfaces in your facility, the bioburden will be continuously reduced, actively killing 99.9% of bacteria in less than 2 hours.
---
As more states loosen or get rid of their CON laws, the growth of FSERs seems poised to continue its growth spurt. Designers and healthcare workers must keep infection control in mind as they design and are involved in creating these unique facilities. It will not be long before more public reporting will be required for these currently-in-limbo facilities, so getting ahead of the game could mean a significant advantage down the line.
Editor's Note: This post was originally published in November 2019 and has been updated for freshness, accuracy and comprehensiveness.