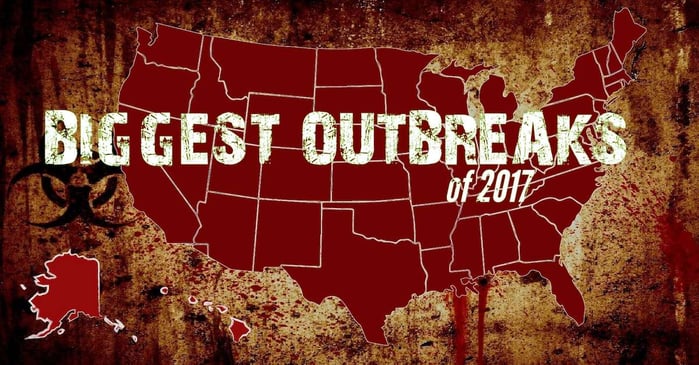 The Society for Healthcare Epidemiology of America (SHEA), with support from the Centers for Disease Control and Prevention (CDC), just released a new guide for hospitals to use when preparing for and containing outbreaks. This document helps hospital epidemiologists respond to community outbreaks of infectious diseases as a part of their Outbreak Response Training Program. With this document in mind, we thought it was a good time to review the biggest outbreaks of 2017, the kinds of outbreaks this document is intended to help mitigate.
---
Outbreaks of infectious pathogens can affect solely one hospital or the community at large. Hospital outbreaks are typically limited to one floor or to a specific patient demographic, but community outbreaks can affect all parts of society and reach across the globe. Since hospital epidemiologists have to be prepared for both types of outbreaks, we'll discuss examples from each in today's post.
Hospital Outbreaks
An outbreak of MRSA affected ten babies in the neonatal ICU at the University of California-Irvine Medical Center this past spring. All infants were successfully treated with antibiotics, and major steps were taken to decontaminate the wards and decolonize over 200 staff. However, community members expressed dismay that the outbreak was not announced publicly. This outbreak brings up the issue of public relations: Outbreaks require a sensitive balance between keeping the community informed and preventing needless panic.
Also this past spring, the cardiovascular ICU at St. Mary's Hospital in Henrico, VA experienced an outbreak of ESBL klebsiella. The unit reported the outbreak to the health department after 4 patients were identified with the bacteria, and an additional two patients were identified thereafter. Hospitals report unusually high numbers of infections to the health department in order to have a central agency that can respond if there is a widespread outbreak over multiple facilities. In this case, the pathogen was contained, the unit decontaminated, and services resumed after a few days. Because of this central reporting of outbreaks, hospitals around the country were alerted to the spread of dangerous mycobacterium via temperature regulating equipment used in operating rooms - information that helped a New Orleans children's hospital respond effectively when it discovered 12 cases of this type of infection earlier this year.
An outbreak that did spread beyond one hospital included over 60 cases of drug-resistant Candida auris in over 20 hospitals in the New Jersey/New York area. Genomic sequencing showed that each area affected throughout the NYC metro area had a unique strain, indicating that there were "multiple introductions of C. auris into the United States followed by local transmission," according to the CDC. Even after enhanced terminal cleaning, surfaces in these hospitals swabbed by federal investigators still came up positive for the fungus. Rooms were then cleaned with a sodium hypochlorite-based disinfectant, after which no traces of the fungus were found. This outbreak shows the need for coordinated collaboration between hospitals, local health departments, and federal agencies in order to control a dangerous outbreak.
Patients are not the only ones at risk for an outbreak. In Winchester, MA, over 20 hospital staff members became infected with scabies, a skin diseases caused by the Sarcoptes scabiei mite brought into the hospital by a patient. Multiple staff in microbiology laboratories came down with Salmonella infections spread by workers not following protocols including washing hands, wearing gloves, and using separate writing utensils in the lab and office. Thanks to PulseNet, a national network of outbreak reporting, the outbreak was identified and contained.
Community Outbreaks
Easily the most significant community outbreak of infectious disease is the ongoing Hepatitis A outbreak in California and neighboring states. While the strain of this virus is not unusually virulent, the outbreak has grown rapidly due in great part to the affected demographic: Adults experiencing homelessness and involved in active drug use. The close and unsanitary living conditions of these communities has led to rapid transmission. To date, there have been 672 cases leading to 430 hospitalizations and 21 deaths. Response to the outbreak has been challenging due to the population affected. Individuals without stable living conditions can be difficult to locate for a preventative vaccine (let alone the two doses recommended), and infected individuals may not have the ability to access health care before spreading the virus further. This outbreak brings to light the difficulty of managing an entire community's health when certain portions of that population do not have access to the basics for daily living: Shelter, food, and safety.
Disrupted living conditions and the diseases that come along with them also came to light in the aftermath of this year's catastrophic hurricane season. After Harvey, Irma, and Maria, US communities experienced flooding, persistent displacement, and high-density emergency living conditions. The resulting viral and bacterial infections were handled as a part of the local and federal response protocols. Despite these efforts, lives were lost to necrotizing fasciitis ("flesh-eating disease") caused by the bacterium Vibrio vulnificus that lives in coastal water. Mold has also posed a problem, growing in flooded homes sitting in the hot, humid weather and leading to multiple cases of respiratory disease. Decades of experience has improved response protocols, but there are still casualties whenever there is a natural disaster.
---
Many other outbreaks occurred in the US this year (send us any we should have mentioned!), but we selected these for the lessons they teach us about hospital and community responses. While reporting data may be onerous and tedious, and result in unwanted and unwarranted community scrutiny, the end result is faster identification and containment of outbreaks... and we all benefit from that. Stay tuned for an overview of the global outbreaks of 2017.